Flu season has descended upon us, and it can last as late as April. Seniors especially should take every precaution to deter the flu virus from infecting them. Why? The elderly are more vulnerable to complications from the flu than younger people due to a decline in immunity. The severity of the flu leaves senior individuals at greater risk for life-threatening pneumonia or other respiratory conditions. Dehydration is another consequence of the flu in many older adults. Plus, seniors who suffer from chronic ailments, like heart failure, asthma, diabetes or renal failure, find that getting sick due to the flu only intensifies their chronic conditions.
When does the flu strike? Flu season starts in October and wanes in February; however, the flu virus may, in some years, linger until March or April. The Center for Disease Control finds that 200,000 people are hospitalized due to contracting the flu; of those, 36,000 people die from the virus. Of those whose flu bouts are fatal, the vast majority are the elderly. Medical professionals estimate that most seniors in their seventies and eighties experience a greater risk of complications than those in their sixties. The risks are greater in seniors who are older due to age-related declines in immune systems. Due to the high mortality rate in older adults, seniors must participate in extra safeguards to stay healthy.
Flu Spread and Symptoms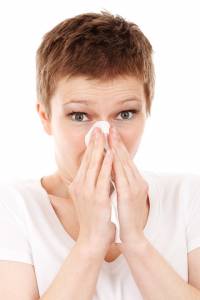 It's helpful to know how the flu virus spreads. The flu is highly contagious, infecting people through respiratory droplets, such as those from coughing or sneezing. If the flu virus has tainted common public areas, like doorknobs or shopping cart handles, the virus is easily contracted. Individuals need only to handle or touch the contaminated spot, then touch their mouth or nose, to introduce the virus into their bodily system.
Symptoms of the flu slightly resemble those of a cold and include fever, chills, muscle pains, sore throat, stuffy nose, coughs, headaches and extreme fatigue. An infection by the influenza virus can be severe, leaving seniors unable to even get out of bed. Occurrences that happen as a result of the flu also include higher risks of falls, injuries and additional complications in senior citizens.
In older adults, if flu symptoms fail to improve or get worse after three to four days, a medical professional should be consulted right away. Also, the senior's physician should be notified immediately if the senior experiences difficulty breathing. A dangerous sign of bacterial pneumonia can also result from the flu virus; symptoms include shaking, chills, vomiting, nausea, chest pains and expelling thick, yellow/green mucus while coughing.
Complications in the flu can also affect the senior population. Such conditions that result from the flu are dehydration, ear infections, sinusitis and bronchitis.
Flu Prevention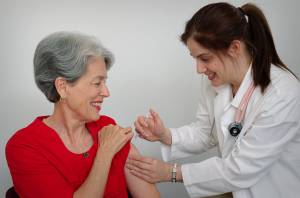 Prevent the flu in older individuals by getting annual flu vaccinations, especially early in the flu season. The vaccine that wards off the flu wears off after a few months, so it is important to not receive the flu shot too early in the season. Even if the senior feels healthy, a yearly flu vaccine is vital.
Flu vaccines are only seventy to ninety percent effective, leaving a small number of those who get the flu shot vulnerable to the flu. Keeping this in mind, it is essential that those surrounding the senior also be vaccinated. This includes family members, hospital staff and nursing home employees (nursing home staff are required to get an annual flu shot).
Other forms of flu prevention in the elderly include avoiding crowded areas during flu season or just staying away from those who are already sick. Plus, practicing excellent hygiene is important. Frequent hand washing will wash off bacteria spread after touching public areas, like stair rails or doors. When coughing or sneezing, covering the mouth is essential to avoid spreading the flu, as is washing them immediately afterward.
Seniors can also help ward off the flu by eating healthy foods rich in vitamins, such as fruits and vegetables. Nutrition-dense foods also help sustain the immune system. Along with eating a healthy diet, stay hydrated by drinking water regularly throughout the day.
Kids can carry germs during the flu season, so it's important to keep a reasonable distance. This may be difficult when grandkids are nearby; but taking care to avoid the flu is important for older individuals, especially.
Flu prevention in the elderly is possible, though it takes concentrated effort to remain out of the virus' reach. In the event an elderly loved one becomes ill with the flu, an elderly care provider can offer much-needed assistance.
Flu Care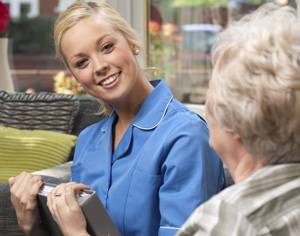 Assisting Hands Home Care offers licensed elder care, serving the needs of the senior populations. Health recovery assistance is one type of service offered; it includes helping a loved one who has recently been discharged from the hospital for any reason, including after suffering a bout of the flu. A customized program will be discussed and implemented to ensure the most optimum recovery for your loved one.
Non-medical care is also an option for seniors who have just experienced the flu. Elder care providers are trained to offer skilled condition monitoring or medication reminders in the event of the flu or other illness. In the case of emergencies, Assisting Hands Home Care provides a personal emergency response system, where the senior can push a button on a bracelet to alert family members of the emergency.
When a senior loved one is sick with the flu, an Assisting Hands Home Care team member is available to arrive at your loved one's home to provide personal care, including meal preparation, light housekeeping, companionship and 24-hour care. A care management plan is developed with family members to offer maximum care for the senior in need. Assisting Hands Home Care is dedicated to ensuring seniors experience compassion and attention when they are ill and when they need assistance the most.