As people age and enter their golden years, taking care of oneself can become tougher. Everyday tasks that were once simple to do can become unsafe to do without proper assistance. This can be due to aging and/or an illness or disease.
Because of this, elderly individuals may consider moving into a nursing home or an assisted living facility. However, leaving the home does not have to be the default option for elderly people in need of care. Home care is becoming an increasingly popular choice for seniors who require regular care to live safely. In fact, senior home care is a preferred option for many elderly individuals because of its numerous benefits.
Continue reading for more information about the benefits of senior home care services and to learn why it could be a good fit for your elderly loved ones.
Living at Home
One of the greatest appeals of home care is that those who receive care get to age within the comfort of their own home. Many people do not want to live in a group residence because it means giving up their home. People make cherished memories at home and spend a great deal of time and money to turn the property into a home, so it can be tough to give up.
Home care services also greatly benefit individuals who are affected by Alzheimer's disease and other forms of dementia because the familiar environment helps them feel more comfortable, making it easier to provide them with care.
Customized Care
With help from home care services, clients get a care plan that is customized to fit their unique needs. Knowing this, there's no need to worry whether you or an elderly relative are getting the exact care and assistance they require. Whether care is needed on a part-time or full-time basis, senior home care can meet those needs. There are also specific forms of senior home care to help individuals with specific conditions.
For example, if an elderly relative requires care at all times of the day, there are 24-hour home care services that can meet those needs. If you care for a loved one during the day but are unavailable at night, there are overnight home care services that provide your relative with an overnight caregiver to ensure they always have someone to help them. If a senior is affected by Alzheimer's disease or another form of dementia, there are memory care services that specifically cater to those conditions. With respite care services, family caregivers can take a break and have a professional take over for however long is needed.
One-on-One Care
When receiving home care, a caregiver is assigned to the client. This means the senior in need will receive one-on-one care unlike what you would find at an assisted living facility. The caregiver's main focus will always be your loved one, so their needs will be met right away. For example, the caregiver will always be around to provide seniors with assistance with restroom use, cooking, and even just getting around the home.
Companionship
Another benefit of in home care service is that the caregiver will also double as the client's companion. Some elderly individuals who require care may live on their own, making it easy for them to feel isolated and/or lonely. These feelings can lead to poor health and even depression. But with home care, the assigned caregiver is also there to be their companion. They will get to know your loved one, make conversation with them, and engage in their favorite hobbies and activities.
Maintaining Independence
If an individual moves into an assisted living facility, then it can make the person feel as though they have had their independence taken away from them. But home care allows the client to maintain control over much of their life — thus maintaining independence as well. Seniors have freedom with their schedule, when they sleep, and where they want to go. If elderly individuals cannot drive, the caregiver can provide transportation to wherever they need or want to go, including social events and to run errands.
Senior Home Care Services from Assisting Hands Home Care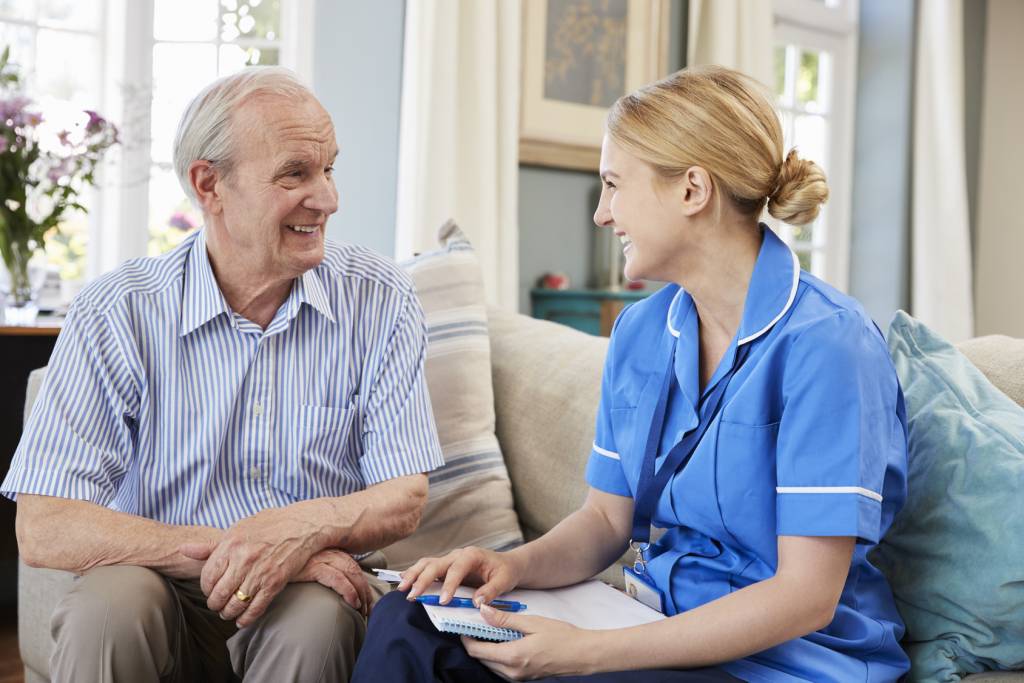 If you or an elderly loved one needs care services to continue living in a safe, healthy manner, then Assisting Hands Home Care can help.
At Assisting Hands, we offer complete senior home care services to elderly individuals in Plainfield, Bolingbrook, Lombard, Elmhurst, Bensenville and the other neighboring communities of Illinois' DuPage, Will and Kendall Counties. With our services, we can help with activities of daily living, such as bathing and showering, and with instrumental activities of daily living, such as transportation and meal preparation. We will also work with the client and their family to develop a flexible care plan that caters to their unique needs.
If your elderly relative needs more specific in-home care services, we provide numerous other services, including respite care and 24-hour home care.