Age-related decline starts to set in as seniors advance in years. Cognitive challenges may emerge, and physical impairments can prevent older people from independently carrying out daily tasks. Although the need for extra support is clear, some seniors may refuse help altogether.
Approaching a senior who would obviously benefit from the in-home assistance from professional caregivers can be a daunting task. The elderly person may not acknowledge her impairments, instead insisting that she is still able to drive, cook, and manage the household on her own.
Such a scenario can be upsetting, especially when the senior shows evidence of the need for extra care. Maybe she is too frail to cook and no longer maintains a healthy weight. Missing doctors' appointments due to forgetfulness can be damaging to the senior's overall health.
Other common situations include seniors no longer practicing good hygiene. A senior in the early stages of dementia may forget to pay the bills. Or, a senior starting to show symptoms of other cognitive impairments may fail to process logical arguments or show a lack of judgment.
The senior's physical safety and emotional well-being are in jeopardy when help is sorely needed but not accepted. Older adults, however, do have the right to refuse help. Fortunately, families can navigate the situation by following these tried-and-true tactics to convince a senior to accept in-home care.
1. Understand the senior's perspective
The first step in persuading a senior to accept help from caregivers is to acknowledge her reasons for refusing help. She may be flooded with fearful emotions caused by the unknowns of aging. By understanding the senior's motives and thoughts, it's easier to approach the situation with empathy.
A range of emotions, from frustration to helplessness, can arise when seniors experience cognitive or physical decline. When an adult child suggests home care, the senior may feel her pride and control are threatened. The senior may feel misunderstood, so offer respect and reassurance when discussing care.
2. Assess the senior's abilities
While the laundry may go unwashed or the bills remain unpaid, adult children are advised to evaluate what the senior can accomplish. Being aware of the senior's current levels of ability can direct the discussion about accepting specific caregiving help and allow the family member to prioritize concerns.
Focusing on ability rather than disability allows the discussion to move in a positive direction. During the talk, find out what the senior values. If she values independence, suggest that a caregiver will help her remain as independent as is safely possible, while offering support when necessary.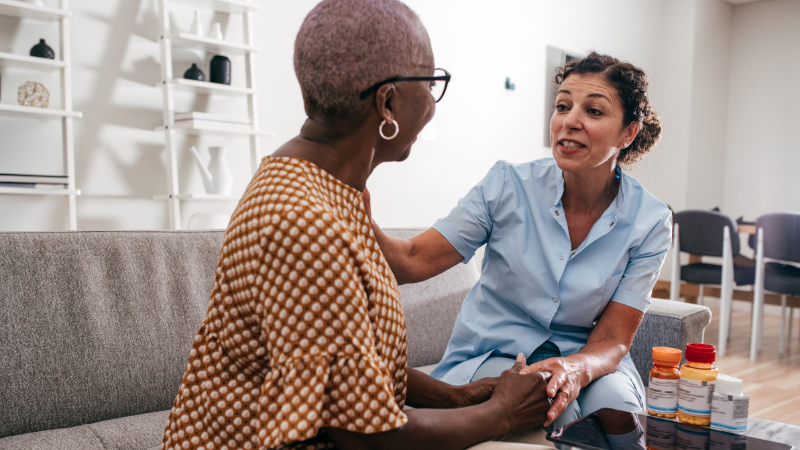 3. Invite the opinions of a third party
Introducing an objective third party can convince a senior to accept help from a caregiver. The senior's physician, a geriatric care manager, a religious figure, or even a friend or neighbor can influence her important life decisions. Their arguments in support of care may appear more valid to the senior.
Furthermore, the social support provided by these individuals can bolster the senior's belief that the people around her care deeply about her well-being and happiness. The unbiased input from professionals may effectively sway the aging adult to accept help at home.
4. Give the senior care options
Older people prize their ability to make their own decisions. Respect their freedom of choice by offering care options and asking for their input. Listening to the senior's input helps confirm to her that her opinions and independence are valued.
5. Change the senior's perception of care
Modify how the senior perceives in-home care. Suggest that a professional caregiver will provide safe transportation to the doctor's office. When the aging adult expresses wishes to go on walks and pursue hobbies, point out that a caregiver is a reliable companion who can facilitate those activities.
6. Gradually introduce in-home care
Suddenly bringing in a professional caregiver will likely cause the senior distress and discomfort. Rather than attempt to abruptly overhaul the elderly individual's lifestyle, suggest a caregiver come into the home once or twice a week to help around the home.
As the senior gradually warms up to the idea of having an elder care professional in the home, she may see the value in accepting help more regularly. By slowly ushering in extra support, the family members show that they respect their elderly loved one's boundaries and independence.
Consider inviting a potential caregiver into the senior's home for a brief introduction. Assess how the senior and caregiver interact. If the senior and caregiver are mutually interested in sports, golf may be discussed with ease. When rapport develops, it's likely the elderly individual may accept further help.
Broaching the topic of in-home elder care is not easy, especially when the senior remains adamant about protecting her independence. But carefully introducing the subject and respecting what the senior values most will go a long way toward convincing her that extra support is beneficial.
When families see the need for extra help at an elderly loved one's home, a reputable home care agency is the solution. Assisting Hands Home Care offers invaluable nonmedical support to seniors of all physical and cognitive ability levels. Our goal is to enhance seniors' quality of life.
Professional caregivers achieve this end by assisting care recipients with the activities of daily living, such as personal hygiene tasks, meal preparation, grocery shopping, and transportation. We encourage independence when it is safe, thereby increasing seniors' confidence levels and self-esteem.
Our companion care services are highly rated. Caregivers from our home care agency build fulfilling relationships with the seniors we serve. We encourage care recipients to pursue hobbies and take them on safe outings. Conversations with seniors help keep their cognitive faculties sharp.
Companion caregivers from Assisting Hands Home Care offer compassionate and comprehensive elder care services. Our services deter loneliness and isolation and increase overall emotional and physical well-being. Call our Schaumburg or Park Ridge, Illinois, location today to set up a complimentary in-home consultation.