The robin's chirp is a welcome sound of spring. The arrival of migratory birds to the Midwestern landscape is often the first indication that warmer weather has set in. Watching feathered friends is an enjoyable pastime for seniors and offers a wealth of benefits.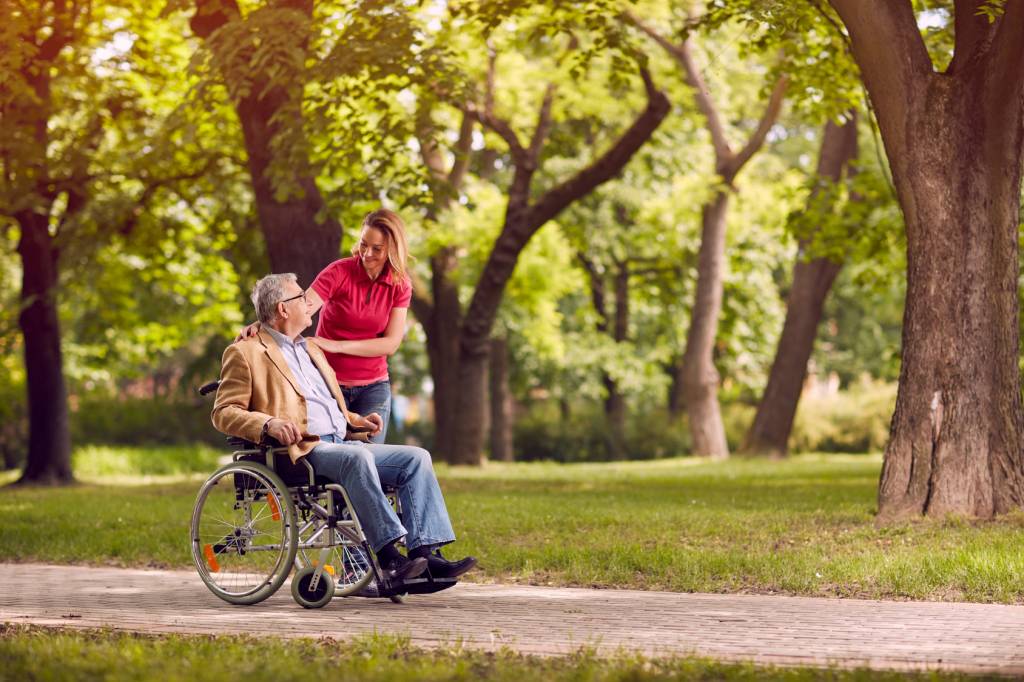 Seventeen million people in the country spend time observing birds in nature. Out of these avid birdwatchers, 7.7 million are seniors. Watching wildlife is among the hobbies that keep older people active and young at heart. Seniors also learn to appreciate the smaller things in life.
A look outside the window gives seniors the chance to see a variety of colorful birds. In the Midwest, sightings of cardinals, red-bellied woodpeckers, hummingbirds and the tufted titmouse are common. The elderly may even spot flecks of bright blue as blue jays fly in the yard.
Mental Health Benefits of Birdwatching
Birdwatching puts seniors in a relaxed, meditative state. Inspired by the flitting winged creatures, the elderly hobbyists feel inspired. While intently looking into the tree limbs, grasses or skies for birds of all sizes and colors, seniors benefit from having a clear, focused perspective.
As older individuals engage in birdwatching, they learn the various eating and mating habits of the wildlife. Seniors memorize names, bird calls and appearances. As a result, the cognitive functions of the elderly are stimulated. Memory and cognitive alertness receive a workout.
Learning to identify birds by their call or features exercises the brain. Using these skills on a regular basis has been shown to improve memory recall. Seniors who pay close attention to small details feel mentally sharp and alert and experience enhanced memory reflexes.
The mental benefits of birdwatching are numerous. Seniors who birdwatch experience lower stress levels. Plus, observing wildlife is known to alleviate the risk for depression and anxiety in the elderly, which is extremely beneficial for seniors with mild to moderate cognitive impairment.
Physical Benefits of Birdwatching
Physically, birdwatching offers a wide range of health benefits. Watching birds is often done outdoors. Spending time in the sun gives seniors a boost of vitamin D and improves bone health. Walking on trails or nature paths provides older people with cardiovascular exercise.
Focusing on spotting birds in the natural landscape provides a chance to experience mindful moments. Seeing beautiful blue jays adds positivity to a senior's day. The sounds of bird calls and songs helps older people tune out the hectic periods of their days and be mindfully present.
Social Benefits of Birdwatching
Birdwatching can be a solo pastime or, for extroverted seniors, a social one. The hobby may be shared with grandchildren, friends, neighbors or other family members. Seniors may opt to join local clubs or groups to enjoy birdwatching in the company of likeminded others.
Clubs and organizations in Illinois include the Illinois Ornithological Society, North Central Ornithological Society and Chicago Ornithological Society. Seniors may join local clubs, like the DuPage Birding Club or Rockford's Bird Club. The Chicago Audubon Society also welcomes new members.
Professional caregivers, too, add joy to the birdwatching experience. Seniors who are wheelchair bound, for instance, may stroll through the neighborhood in the company of a caregiver, looking for the brilliant sights of colorful wings and listening for the birds' chirpy songs.
Seniors who are on bed rest may also enjoy birdwatching from the comfort of home. Caregivers may facilitate birdwatching by rearranging the elderly individual's room so that the bed faces the window. Add a birdfeeder directly outside the window, and the joys of birdwatching may begin.
Older individuals with a knack for woodworking can build a birdhouse. These seniors feel a sense of purpose in building a home for a living creature and watching their handwork put to use. Caregivers can purchase the materials and provide the senior with the needed tools.
Birdwatching Equipment
Minimal gear is necessary to begin a birdwatching hobby. A pair of comfortable binoculars limits eye strain. Attempting to observe birds without powerful binoculars leads to the birds appearing like small specks of color. Plus, binoculars allow up-close observation without startling the birds.
A field guide is especially useful when observing wildlife. A colorful field guide that features birds that are native to the area gives the senior hobbyist the ability to identify various birds—which leads to greater satisfaction and an improved birdwatching experience.
Seniors can bring birds to their backyards instead of traveling to nature trails. Set up a bird feeder and attract various species. An alternative to a bird feeder is a bird bath. Birds bathe in and drink from the bird bath, allowing seniors to watch birds complete their daily routines.
Companionship During Birdwatching
Spending time in the great outdoors while birdwatching is an incredibly rewarding experience. Seniors who may need assistance to pursue this popular hobby may rely on companion caregivers from Assisting Hands Home Care. We support the elderly in the comfort of their home environment.
Our reputable home care agency provides seniors with dedicated elder care services. Our companion caregivers engage with care recipients on a daily basis. We initiate friendly and supportive conversations to increase social involvement. Common topics discussed include hobbies, family and past experiences.

Seniors who are limited by physical or cognitive impairment find immense help from our social activity planning services. In addition to supporting birdwatching activities, our caregivers encourage social events with families and friends and transport them to local senior centers for activities.
Light exercise is critical to health, and Assisting Hands Home Care providers encourage walks and other forms of physical exercise. We accompany seniors as they walk on the trails or paths around the neighborhood. Our support is instrumental in helping older people feel confident.
Whether your aging loved one enjoys birdwatching or pursues any other hobby, companion care from Assisting Hands Home Care will help meet their needs. Our elder care services are available to seniors living in Park Ridge, Illinois.
Get a Free Consultation
Call us at (847) 796-6685 to schedule a consultation regarding our compassionate home care services.