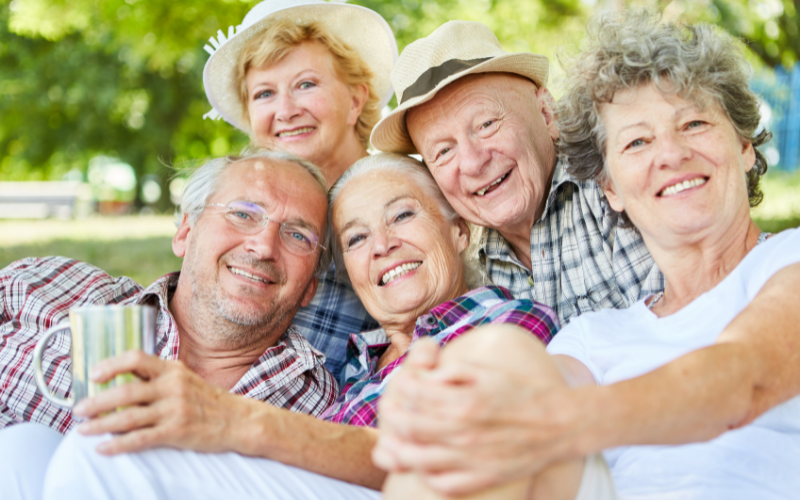 Retirement is a time to enjoy life's slower pace, participate in leisure activities, and enjoy the company of friends, family, and the community. Finding a place that meets these criteria can send seniors on a hunt for the most affordable locations. Here are states to which seniors can retire comfortably.
Aging people take into account several important lifestyle factors before settling down in a state that meets their needs. During retirement, for example, commuting is no longer a daily hassle and unmanageable living costs can be controlled when living in an affordable location.
The proximity of friends, family, and even healthcare providers can influence where a senior ultimately chooses to retire. Social connections are vital to social and emotional health. Active older people also explore potential homes by the beach, near the mountains, or close to golf courses.
Considering factors, like weather, crime rates, culture, opportunities for wellness, and affordability, the following states are ideal places to retire. Of course, the best state to retire is highly subjective. However, when it comes to affordability, these states meet the mark.
1. Wyoming
Boasting a low cost of living, Wyoming turns out to be the nation's most affordable state for elderly retirees. Medicare costs are lower than other parts of the country. The senior poverty rate is also low, which proves that older adults can afford to continue to live here.
About 36 percent of Wyoming's population are seniors. These 200,000 residents enjoy special discounts at their favorite restaurants and shops. Living in the Cowboy State has many financial incentives, from housing to healthcare, and benefits its large group of satisfied retirees.
The housing index is 99.80 percent, which is below the national average of 100. A senior can rent an apartment here for $630 a month. If independent living is preferred, residents pay a monthly cost of $990 to $2457. Home healthcare can be hired for just under $5,000 per month.
2. Georgia
Georgia is another affordable state to retire to, as the 226,000 seniors who relocated here can attest. Cost of living is low and the tax burden is light. Goods and services are about 5.5 percent lower than elsewhere in the nation.
Retirees can buy a home in the Peach State for a median price of $180,679 or rent a home for an affordable $982 per month. Seniors dine well in Georgia, considering food prices are between 3 and 5 percent lower than the national average.
Receiving regular medical checkups keeps seniors healthy. Those who retire here spend less on healthcare costs, as they are 4.5 percent lower than the rest of the country. Retirees who seek affordability, however, generally stay out of Atlanta, as costs spike exponentially in the city.
3. Montana
The Mountain State region offers seniors on a budget another affordable place to retire. Montana has a robust elderly population, with nearly 2 in 5 people living here being age 50 or older. Retirees who relocate to the Treasure State enjoy picturesque views of the mountains and rugged outdoor living.
The housing index in Montana is 102.80, slightly above the national average. Seniors can rent a one-bedroom apartment for $596 a month, which is less than the national average of $825 per month. Home health care can be purchased for a monthly cost of $4382.
4. South Dakota
Seniors looking to spend less in retirement relocate to South Dakota. The average cost of living falls below 4 percent in comparison to the national average. Healthcare costs are affordable, too. The Mount Rushmore State has no state income tax, which is attractive to retirees on a budget.
Certain cities in South Dakota are less expensive to retire than others. Sioux Falls has a cost-of-living index that is 8 percent lower than the rest of the country. Head for the rural areas, and retirees enjoy a cost of living that is 15 percent lower than the national average.
Rural areas make up most of South Dakota, making it necessary to own and maintain a vehicle. Transportation can be the most expensive cost of living, as a result. The grocery store and hospital are often located an hour away. Seniors who don't mind driving enjoy the financial perks.
Older people exploring affordable locations may be surprised to find that Florida does not make the list. The Sunshine State had once been an inexpensive place to live, but in recent years that financial benefit is fading. While the tax burden is light, the cost of living is high.
Affordability during retirement is a major draw for many aging adults. The best places to retire offer a high standard of living along with a low cost of living. Wherever seniors ultimately choose, having options for extra support always remains a priority.
Assisting Hands Home Care is an integral part of many seniors' lives, especially when they continue living at home. Our professional caregivers provide in-home elder care services that allow aging care recipients to live comfortably, safely, and confidently in their own homes for as long as possible.
Typical services our caregivers provide include help with personal hygiene tasks, meal preparation, light housekeeping, transportation to doctors' offices, and companionship. We schedule exercise into the day to keep seniors fit and take them on safe outings or hold pleasant conversations to promote healthy socialization.
Even when an aging loved one lives with physical or cognitive limitations, the compassionate care from Assisting Hands Home Care is instrumental for achieving a good quality of life. Our caregivers provide memory care, hospice care, post-surgical care, and overnight care for seniors who need specialized care.
Include senior home care from Assisting Hands Home Care in the life of your elderly loved one residing in Park Ridge, Illinois, or the surrounding suburbs. We'll schedule a complimentary in-home consult to determine care needs and develop a flexible care plan.
Call today at (954) 859-2271 to begin quality home care.