Crafting has never been so accessible to and affordable for seniors. A wide array of craft projects is available to the elderly who'd like to add interest and intrigue to their daily lives. Even better, caregivers are excellent support systems when it comes to making crafts come alive.
As mentioned, crafting can be done by anyone, of any age and in any place. Seniors with limited skills sets or experience can reap the benefits of engaging in creative craftwork. Plus, materials for crafting are readily available at local hobby stores or online.
Benefits of Craftmaking for Seniors

Participating in craftwork offers the elderly individual numerous health benefits. Depending on the craft, seniors can improve their motor skills. Older craftspeople experience a reduction in unwanted stress, relieve anxiety, and strengthen social connections when they are involved in the crafts.
Cognitive abilities also improve when seniors pick up crafting. Engaging in certain crafts, like pottery or knitting, has been shown to reduce the risk of developing mild cognitive impairment. Memory function is known to improve when seniors participate in digital photography or quilting.
Special equipment can be utilized by seniors who have physical limitations. Seniors who enjoy woodworking but can no longer handle power tools, for example, have the option to assemble materials from a kit. Or, older people who love to knit may continue by using larger needles.
Seniors and their caregivers have a wealth of creative possibilities awaiting them when they pursue craftwork. Caregivers are encouraged to present beads, wood, yarn, paper, glass or flowers to their elderly care recipients. Hours of fun and enjoyment lay ahead with any of the following craft ideas.
1. Build a Birdhouse
Men who have fixed broken items at home or worked with their hands will thrive by building a birdhouse. Building a dwelling for another living creature can be an enormously rewarding experience. Building keeps seniors engaged, provides a sense of purpose and helps maintain dexterity.
Building a birdhouse may be done from scratch, especially if the senior is accustomed to woodworking. Or, a caregiver may purchase a birdhouse kit, whereby the senior can assemble the pieces. Another pleasant project is to simply paint, sand or re-paint an already assembled birdhouse.
2. Press Flowers
Grandchildren will enjoy drying and pressing flowers with a grandparent. Older folks may reminisce about their childhood activities of pressing wildflowers with loved ones. The seniors may even have ideas about the best techniques or methods to use to produce beautiful bookmarks or cards.
The effects of flowers on the senses are many. Seniors surrounded by blooms, whether dried or fresh, experience an improved mood and greater happiness. Aging people also perform better on memory tests when flowers are in the home. Socialization is enhanced when flowers are nearby.
3. Knit and Sew

From the seat of an armchair, seniors can knit, crochet and sew. Most senior knitters are over the age of 60, with many in their 80s and 90s. Seniors might create throw pillows or colorful pillowcases. Personalized memory quilts may be sewn from a wedding dress, baby blankets or shirts.
Knitting comes with many benefits, including promoting a state of relaxation. Joints and fingers stay limber while knitting, which wards off arthritis. Giving away knitted projects provides seniors with a sense of accomplishment, while giving them invaluable opportunities to socially connect.
4. Create Holiday Crafts
Crafting for the many holidays allows seniors to spruce up their home with festive knickknacks. Autumn drops crimson leaves, which may be used in fall leaf candleholder projects. Heart ornaments can be made by recycling old wool sweaters. Mason jar snow globes are easy to assemble with supplies at home.
Crafting ornaments, basic jewelry or holiday pins creates nostalgic feelings and opportunities to reminisce. Seniors might learn something new, which they can share with others. Aging people experience joy in giving gifts they've created. Seniors' creations add cheer to their environment.
5. Craft with Grandchildren

Generations come together when grandparents engage in craftwork with young grandchildren. Kids and seniors will enjoy creating terrariums filled with small plants. Let the kids add toy dinosaurs and gnomes to the garden in the glass jar, and watch them smile every time they visit.
Intergenerational experiences boost seniors' self-esteem and decision-making skills. Older people benefit from building emotional bonds through crafting with younger generations. Seniors experience increased communication and improved memory. Crafting options are endless and may include making crayon hearts out of silicone molds and simple tissue paper stained glass.
6. Transform Photos
Seniors are likely to have dozens of photographs gathering dust in old shoeboxes. Even digital photos can be printed and used to create scrapbooks, collages or photo magnets. Making photo cubes is not only fun, but the project is a great conversation starter with family and friends.
Make Something with a Caregiver
Caregivers are available to help seniors fulfill their craftwork dreams. Whether it is ordering a birdhouse kit online, picking flowers in the backyard garden with the senior, sharing the experience of holiday crafting, or picking up photo prints, caregivers make it easier for seniors to participate in the crafts.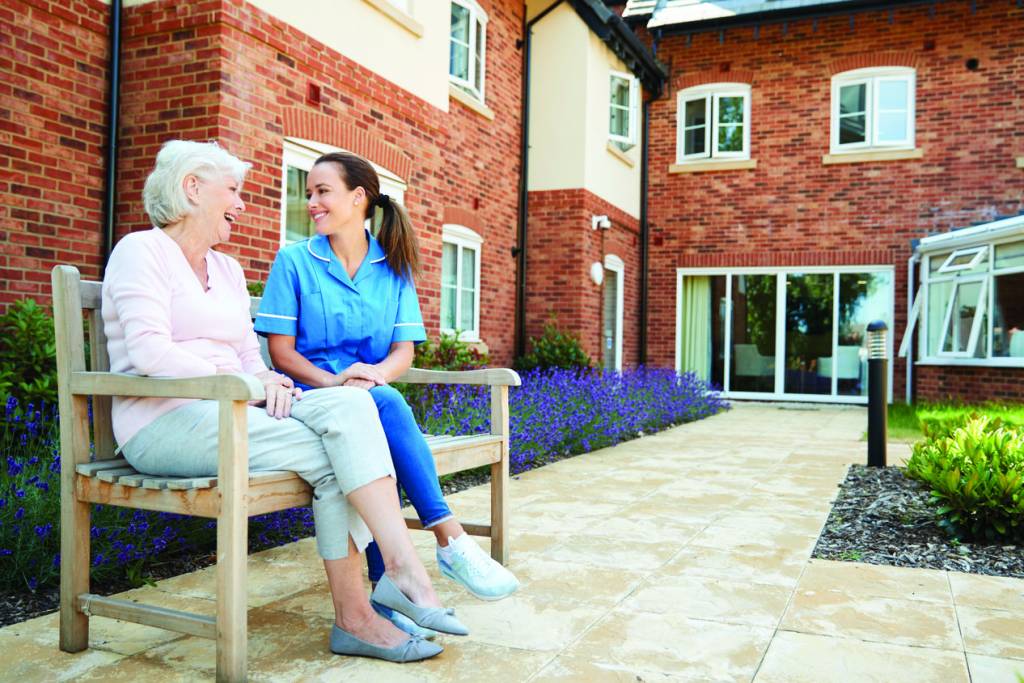 Professional caregivers from Assisting Hands Home Care are ready to help older individuals enjoy the many wellness benefits of crafting. We also provide comprehensive, flexible senior care. Our services include assistance with the activities of daily living, transportation, dementia care and companion care.
Companion and Senior Care
Assisting Hands Home Care services are provided in the comfort of the senior's home. Companion care is especially important to ward off senior isolation and loneliness. We accompany senior care recipients on walks to promote exercise, converse with them to build relationships and facilitate craftwork.
Seniors who receive assistance from our reputable home care agency lead fulfilling lives. Assisting Hands Home Care's licensed and bonded caregivers ensure that the elderly experience a high quality of life. Contact us for our dependable in-home care services.