Alzheimer's and other kinds of dementia cause memory loss and gradual cognitive changes that affect a person's ability to live independently and take care of themselves. As the disease progresses, it becomes more and more difficult for the dementia patient to cope with everyday tasks and they begin to require assistance even with seemingly simple activities of daily living (ADLs).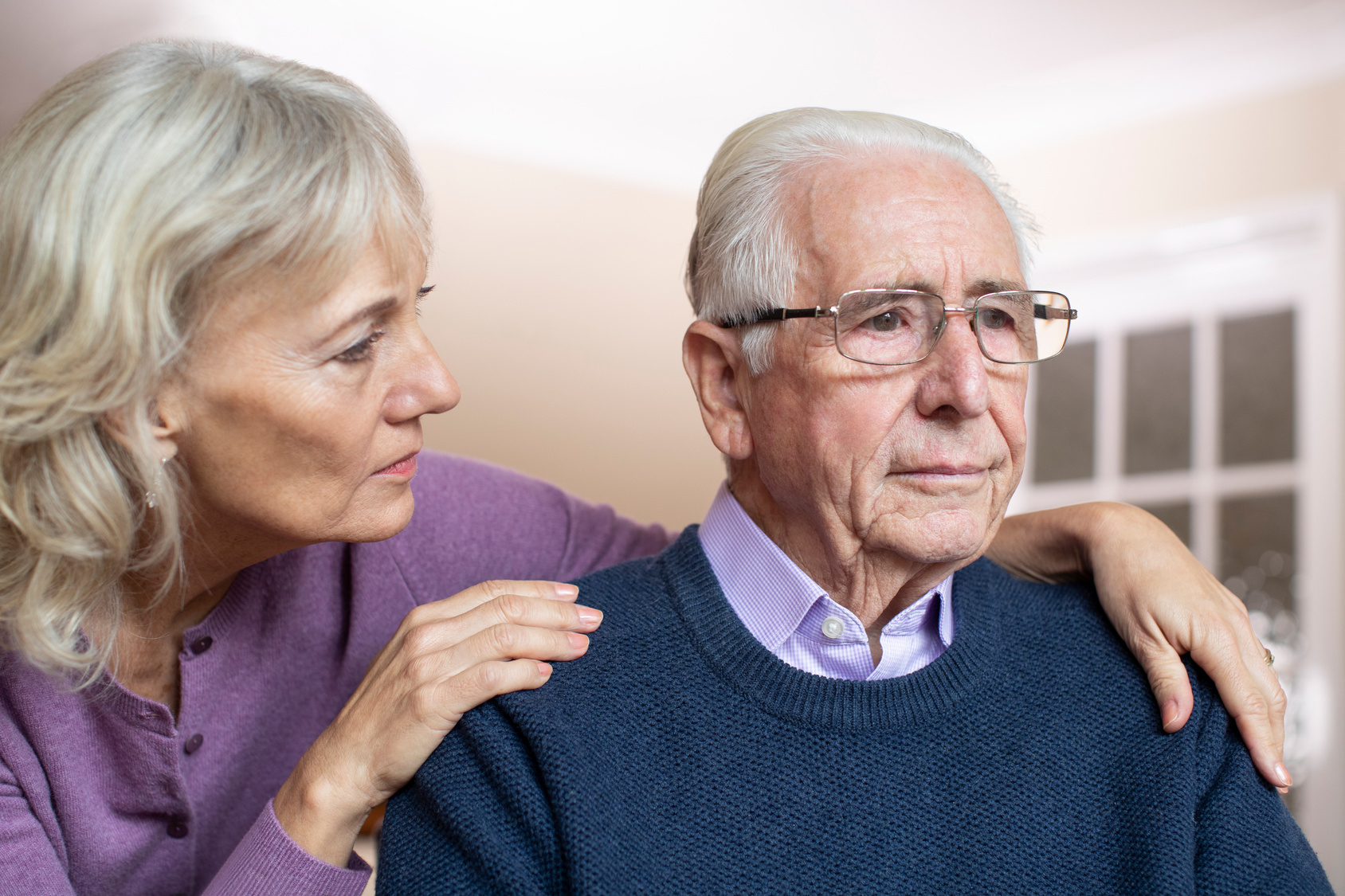 Activities of daily living are the basic life skills a person needs to ensure their health and well-being. Activities involving personal care (eating, dressing, bathing, etc.) are called basic activities of daily living. Abilities that allow a person to live independently (housekeeping, shopping, preparing meals, managing medications, etc.) are known as instrumental activities of daily living.
As cognitive impairment progresses, people with Alzheimer's disease slowly forget how to complete these activities or lose the ability to do so – they need assistance with ADLs in order to maintain a safe and comfortable lifestyle. People suffering from these conditions home health care to ensure their well-being.
How Dementia Affects Activities of Daily Living
Dementia impacts brain functions at multiple levels, so people with the disease may not remember how to perform some activities of daily living, may lose interest in doing these activities, may not be able to understand why something needs to be done, or may have movement disorders and poor coordination that make it impossible to cope with daily tasks.
Memory – The person with dementia just forgets to do a task, doesn't remember how to perform it, or doesn't know how to use the tools needed to complete it;
Attention – The affected individual cannot keep their focus long enough to complete a task;
Decision-making – The dementia patient is unable to assess the relevant factors or evaluate the outcome of a decision which results in inappropriate choices and actions;
Executive functioning – The affected person is unable to organize and carry out a set of tasks in an efficient manner which makes planning and sequencing very difficult and renders multi-step processes such as cooking and driving impossible;
Visual-spatial abilities – The person with dementia doesn't understand what they see around them and cannot interpret spatial relationships which causes difficulty navigating, locating familiar places and objects, and recognizing items.
Hallucinations, delusions, confusion, anxiety, fear, anger, and other psychological symptoms of the disease also impair the affected individual's ability to perform activities of daily living.
Dementia Impact on Activities of Daily Living in Different Stages of the Disease
A person with dementia needs more and more help with everyday activities as the disease progresses. In the early stages of Alzheimer's, the affected individual requires assistance with some of the instrumental activities of daily living. Later on, they may need help with personal care and other basic ADLs as well.
Mild Dementia
In the early stages of the disease, most people can still cope with basic activities of daily living, but they start forgetting things, have difficulty making decisions, lose motivation and interest in hobbies and activities, and get easily confused. Therefore, they need assistance with some IADLs – especially complex tasks that involve multiple steps or extensive planning.
Moderate Dementia
As Alzheimer's progresses, IADLs such as travelling and keeping track of personal finances become impossible for the dementia patient. In this stage, the person is unable to cook, clean, or shop independently, begins wandering and exhibiting behavioral and psychological symptoms such as depression and paranoia, and starts needing help with personal care activities.
Severe Dementia
As dementia becomes more severe, the affected individual begins to require assistance with all basic activities of daily living such as walking, dressing, eating, bathing, and grooming.
At this stage, it becomes extremely difficulty for family members to provide the needed care to their loved ones with Alzheimer's – professional home care is required to ensure the safety and well-being of a person in the late stages of dementia. The experienced professionals are able to not only assist the senior with activities of daily living, but also to provide them with specialized memory care and home health care, as needed.
How to Assist a Loved One with Alzheimer's Disease with Their ADLs
If you have a loved one with Alzheimer's disease who needs help with activities of daily living, you can use the expert tips below to improve the quality of their life:
General tips for activities of daily living for Alzheimer's patients:
Keep in mind the person's abilities and encourage independence as much as possible;
Split complex activities into mini-tasks your loved one will be able to understand;
Get tasks done one at a time and allow plenty of time for their completion;
Give simple, step-by-step instructions;
Speak slowly and clearly and keep your voice calm and reassuring;
Repeat or rephrase as necessary;
Avoid giving too many choices or asking confusing or unnecessary questions;
Avoid explanations of why the activity is needed or what will happen if it is not done;
Keep eye contact with the person when talking to them to ensure that their attention is focused on what you're saying;
Use gestures and prompts to help the person with dementia understand what needs to be done and to make them start a task;
Do not point out mistakes and do not let your loved one feel frustrated or tired;
Acknowledge your loved one's efforts and praise them when they complete a task;
Establish a routine – schedule activities for the same time of the day and do them in the same way every time.
Assistance with eating:
Ensure your loved one doesn't skip meals;
Provide a balanced, nutritious diet rich in fruits, vegetables, whole grains, lean protein foods, and low-fat dairy products and plenty of healthy fluids;
Provide adaptive utensils – plate with rims, spoons with larger handles, and other easy-to-handle eating utensils;
Avoid serving food that is too hot or too difficult to chew;
Encourage independent eating – serve finger foods that are easier to handle, cut meat and vegetables into smaller pieces, etc.;
Be ready to provide feeding assistance if necessary;
Remind your loved one to drink water and offer liquids on a regular schedule.
Needless to say, you need to do all the shopping, cooking, and cleaning for your loved one in the later stages of the disease.
Assistance with dressing and grooming: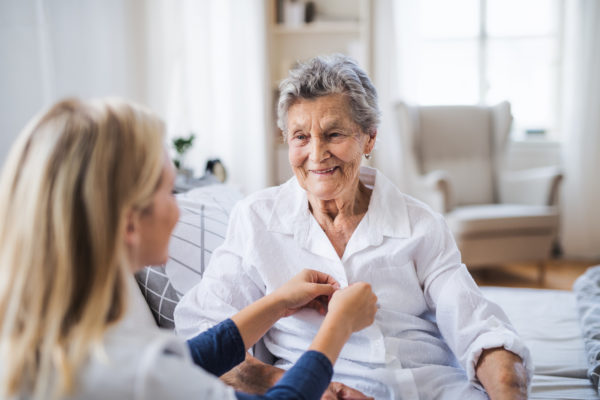 Provide loose-fitting, comfortable clothes that are easy to put on and take off. Garments and shoes with Velcro straps and large zippers are preferable to buttons and shoelaces;
Let the person decide what to wear, but offer a limited choice of garments appropriate for the current climatic conditions, the occasion your loved one is going to attend, or the activities they will be doing;
If your loved one can dress themselves, lay out the clothes in the order they're to be put on;
Remind your loved one to comb their hair or do it for them if they cannot complete the task themselves;
If your loved one is able, take them to the salon or barbershop at regular intervals – it may be a fun and positive experience;
Make sure your loved one's nails are trimmed and cared for;
Use an electric razor for shaving to reduce the risk of cuts;
Provide appropriate skin-care products and help your loved one apply them correctly.
Assistance with personal hygiene – bathing, dental care, and toileting:
Encourage your loved one to bathe regularly;
Make the bathroom as safe as possible – consider walk-in tubs and showers, install grab rails along the bathroom walls, place rubber mats on the floor to prevent slipping, provide a bath stool, etc.;
Make sure the bathroom is warm and well-lit;
Always check the temperature of the water in the bath or shower as people with dementia may misjudge the temperature and end up bathing with very hot or very cold water;
Let your loved one wash themselves if they're able to. If needed, guide them through each step with simple instructions;
Do not leave your loved one unattended in the shower or tub if they're frail or confused;
Make sure that areas underneath any folds of skin and difficult-to-reach areas are cleaned and dried well after the shower;
Pat the skin dry – do not rub. Apply lotion to keep the skin soft and supple;
Remind your loved one to brush their teeth and assist them as necessary;
If the person wears dentures, clean them every day, check that the dentures fit properly, and examine the gums for sores or areas of redness;
Consider raised toilet seats and install grab rails near the toilet;
Schedule routine bathroom visits to prevent accidents;
Be ready to assist your loved one with using the toilet and ensure proper wiping and proper washing of hands;
Consider a bedside commode or urinal if getting to the bathroom is a problem.
If housekeeping and personal care become too much, do not hesitate to seek out in-home care services. Professional caregivers will provide your loved one with excellent care and will offer emotional support and friendly companionship. Using home care services will allow your elderly family member to continue living safely and comfortably in their home and will ensure your peace of mind. Specialized dementia care services will help relieve the stress and improve the quality of life of your loved one. Senior home care is your best bet when a loved one with Alzheimer's or other forms of dementia needs help with activities of daily living.
In-Home Memory Care Services by Assisting Hands Home Care
If you have an elderly loved one with dementia in the Plainfield, IL area, Assisting Hands Home Care is here to help – our caregivers are trained and experienced to provide memory care for Alzheimer's and dementia patients in any stage of the disease. We will make sure the senior's living environment is safe and well-maintained, provide them with the personal care and assistance with activities of daily living, ensure that they take their medications on time, and engage them in mentally stimulating exercises to help slow memory loss.
You can call us at (815) 201-5445 for more information about our Alzheimer's and dementia home care services.