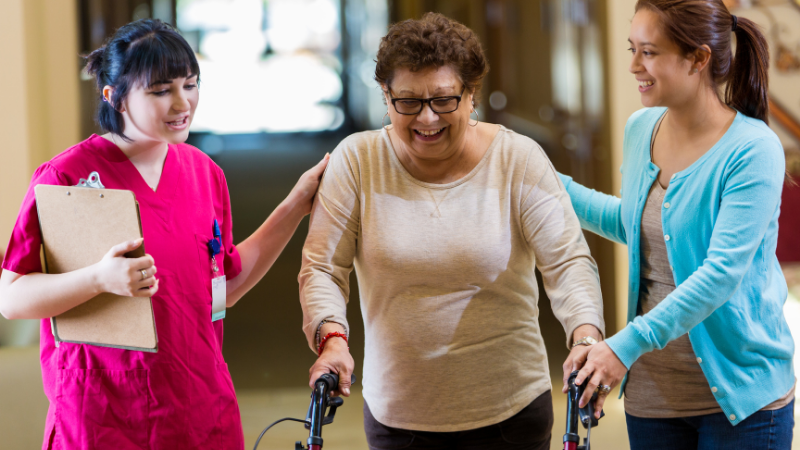 When your loved one is unable to take care of their basic needs at home, it is time for them to start receiving daily care. They will have several options available to them, including assisted living or a skilled nursing facility. It is important to understand the difference between the two so that you and your family member can choose the best option that fits their needs and personality.
There are a couple of things that assisted living facilities and skilled nursing facilities have in common:
They are long-term care options
They provide medical, personal, and social services to those who cannot take care of them at home themselves
When it comes to differences, in assisted living facilities, your loved one would get assistance with activities of daily living (ADL's), and they would still have the freedom to take care of most activities themselves. In skilled nursing facilities, the residents receive care all day with ADL's and any medical assistance they may need.
Assisted living facilities offer different types of care than skilled nursing facilities. Let's explore each and the type of care they offer to their residents. Always make sure to take into consideration your loved one's physical and cognitive abilities before deciding on which type of care you should choose for them.
What do assisted living facilities offer?
Assisted living communities offer a level of care and assistance for its residents, and they do have medical staff such as Registered Nurses. The nurses partner up with the family physician to offer residents the care they need. However, the residents are encouraged to do activities on their own as well. This means that they can socialize with other residents or pursue hobbies they may enjoy. Assisted living facilities are focused on creating a community by having lots of opportunities for residents to bond and socialize through games, exercise, and other activities. There are large rooms dedicated to these activities to help foster a community between the residents.
The residents can also bring their belongings and furnish their apartments as they wish. The apartment style living includes a bedroom, kitchen, living room, and all the amenities an apartment offers. They can prepare their own meals or use the centralized dining option. The residents can also receive outpatient care right in the facility as the assisted living communities partner with agencies who offer hospice, physical therapy, and other services that are provided right on site.
A few things that can determine if your loved one should be in an assisted living facility include:
Help with daily living activities (bathing, dressing etc.)
Mental health
Medication management support
Social support
Financial management support
Assistance with getting around
Some things to keep in mind when it comes to assisted living facilities:
Most are private pay only and are not covered by Medicaid
Residents must be able to walk and stand independently
Residents cannot have severe cognitive issues
This type of facility does not include 24/7 nursing care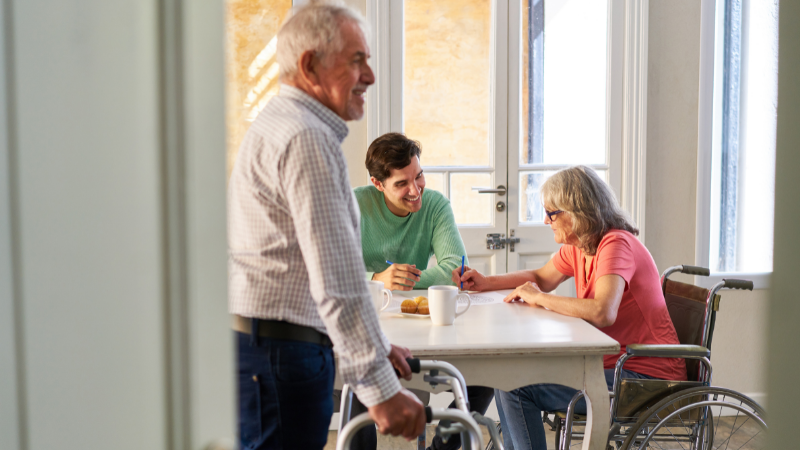 What do skilled nursing facilities offer?
Skilled nursing facilities offer around the clock care to its residents who require full medical care or daily therapy. At times, skilled nursing facility stays may be temporary after a long-term hospital stay. The short stays at these facilities happen due to injury, surgery, or decline from heart attack or stroke. Usually, these types of residents receive rehabilitative care so that they can become stronger and continue leading their lives independently.
Skilled nursing facilities also offer long-term care. The residents are helped with ADL's and any other type of medical care they may need. All care is administered by professional medical personnel. Skilled nurses routinely provide the following:
Caring for wounds
Ventilator care
IV medications
Feeding tube
Care for bed sores
Physical, speech and occupation therapy
Pharmaceutical, radiology or lab services
Hospice care
Depending on the level of care needed, residents of these facilities share a semi-private room and eat their meals in the common dining area. They also have a choice of many scheduled activities. If your loved ones cannot participate in these activities because of their condition, the staff can engage them in their favorite activities in their room.
Skilled care facilities offer around the clock care by licensed practical nurses (LPN's). There are also registered nurses (RN's) that are available for at least eight hours each day and seven days a week. All care is also supervised by a licensed doctor. The cost of care is usually covered by Medicare and Medicaid and long-term care insurance policies.
Looking for care at home?
Depending on the needs of your loved one, you may want to consider other options if they are not ready to move into a facility. For seniors that don't require 24/7 attention, in-home caregivers can be a good option. A caregiver can come to your home for a few hours a day to help out.
Are you or a loved one in need of senior in-home care? Assisting Hands Home Care can help your loved one age at home gracefully. We senior home care in Park Ridge and Schaumburg, IL and the surrounding areas. Our staff is experienced, compassionate, and caring and will provide non-medical home care for your loved one.
To learn more about our services give us a call at (847) 796-6685 or visit our website to see all the services we provide.