When an elderly person checks out of a hospital, eager to return home and resume their normal daily routines, they don't usually anticipate the difficulties that come with the transition back into a home setting – safety issues from navigating the house and mishandling medications, increased risks of injury and overexertion, need for assistance with the basic activities of daily living, etc. Without proper care and support, the elderly can have serious trouble making the transition from hospital to home and may end back in the hospital only a couple of months after leaving it. In fact, one in five seniors is readmitted to the hospital within 30 days of discharge.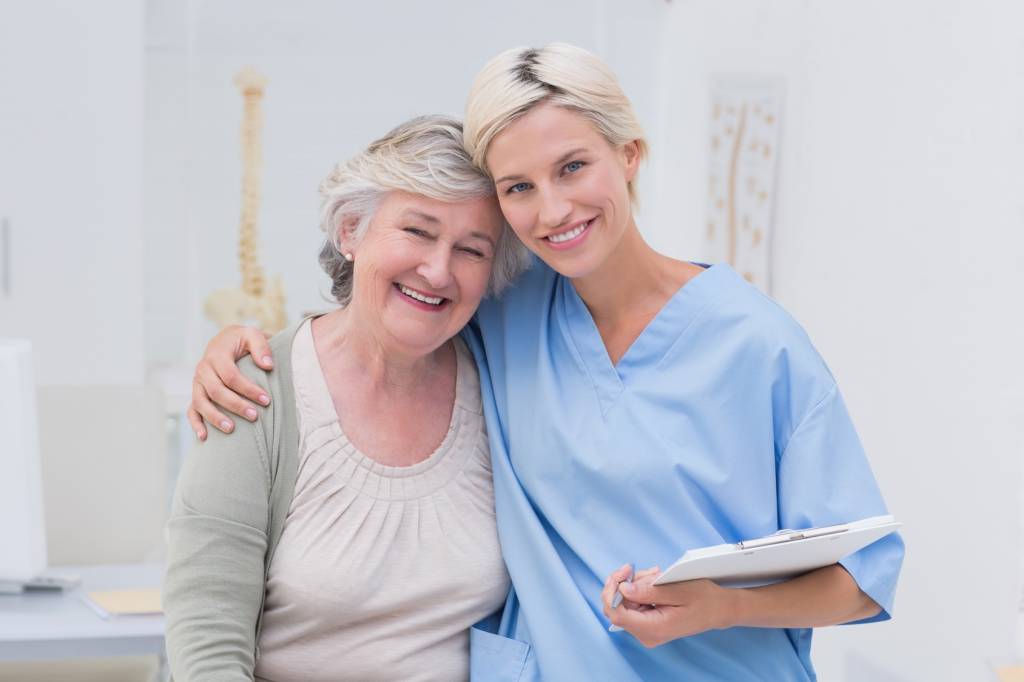 To avoid such an unfortunate turn of events and reduce the risks for hospital readmission, seniors need quality post hospital care. The first 30 days after being discharged from the hospital are critical for a successful and speedy recovery. The elderly need to rest, get proper nutrition, and strictly follow discharge instructions in order to be able to regain their strength and heal quickly. After a serious illness, injury, or surgery, however, seniors are likely to have difficulty managing medications, going to doctor's appointments, and performing daily tasks. Proper home care assistance is required to ensure their successful transition from hospital to home.
Here are some important tips for easing the hospital-to-home transition for senior loved ones and ensuring their safety, comfort, and well-being after hospital discharge.
Be Aware of the Risk Factors
To be able to prevent accidents and medical complications that may lead to rehospitalization, first you need to know what the risk factors are. Common issues for seniors who're returning home after a hospital stay include:
Mishandled medications – Medications are often changed or added to a senior's regimen following hospitalization. The elderly may get confused and forget to take or overdose their medicines, which may worsen their condition or cause dangerous side effects;
Injuries – Reduced mobility, weakness, and disorientation are common problems for seniors after a hospital stay. They make moving around the house difficult and may result in falls and injuries;
Over-exertion – Even the simplest tasks of daily living can be exhausting for seniors while they're recovering from an injury or serious illness. Exertioncan trigger relapses of certain conditions or even new conditions that seniors are more vulnerable to after a hospital stay.
Communicate with Your Loved One's Health Care Providers
Clear communication between hospital physicians and nurses, primary care doctors, and home caregivers is crucial for ensuring the safety and well-being of a senior after discharge from the hospital. To be able to help your elderly loved one recover, you need to be well familiar with their illness, the treatment they're receiving, and the kind of care they're going to need at home.
So, before your senior loved one is discharged from the hospital, talk to their healthcare team and find out:
What medications and specialized medical equipment will your loved one need?
What kind of at-home care procedures are recommended for your loved one?
Does your loved one need specialized home health care or only non-medical home care?
What are the specific risk factors for your loved one's condition?
What steps can you take to mitigate the risks?
What signs or symptoms do you need to watch out for?
How to react and who to call in case of emergency?
Also, make sure you fully understand the discharge paperwork and ask questions as needed:
Request explanations of terms and concepts you are unfamiliar with;
Ask for instructions in performing tasks such as changing wound dressings or administering injections to your elderly loved one at home;
Get a list of names and phone numbers of all health care providers your loved one will be seeing after being discharged.
It's a good idea to make a list of phone numbers of doctors and nurses from the hospital familiar with your loved one's situation, as well.
---
Good to remember: Proper medication management is of paramount importance for the safety and full recovery of your senior loved one. You're, therefore, advised to:
Ask for drug reconciliation – Your elderly loved one may be prescribed a new medication, but they may be already unknowingly taking the same drug under a different name (in case they're prescribed a brand name medication and were taking a generic version of the drug or a similar medicine in the same category before being admitted to the hospital). Needless to say, this may lead to unwanted side effects or even life-threatening situations. To avoid such problems, ask the hospital physician or nurse to check the list of new medications against the drugs your family member was taking before the hospital stay and make sure the new medications are safe to take in combination with your loved one's regular medicines;
Ask for written instructions about your loved one's medication regimen – When there're so many different pills to take it can be difficult to remember which ones have certain side effects, which ones should be taken with food, etc. You need to have an accurate medication list and know when your senior loved one should take each medicine and what the right dosage is;
Find out what is covered by insurance – If some of the drugs or medical devices your loved one is going to need after discharge are not covered by insurance, ask if they can be replaced with similar options that are covered.
---
Make a Post Hospital Care Plan for Your Elderly Loved One
Once you have all the necessary information and know your senior loved one's specific needs, you can create an appropriate post discharge care plan and ensure successful transition from hospital to home care:
Make sure that family members or professional home caregivers will be available to assist your loved one 24/7 during the first 30 days after their return from the hospital;
Educate family members and caregivers about medication schedules, care procedures, and risks they should be aware of;
Obtain the needed medical equipment (such as hospital beds, bedside commodes, walkers, etc.) and have everything in place before your loved one is discharged from the hospital;
Assess your loved one's home and make any necessary adjustments to increase at-home safety – move the bedroom from the second to the first floor, install ramps to avoid traversing steps, install grab bars in the bathroom, near the toilet, and along kitchen walls and hallways, etc.
Transitional care will be easier and more effective when the home is properly prepared and adequate support is readily available.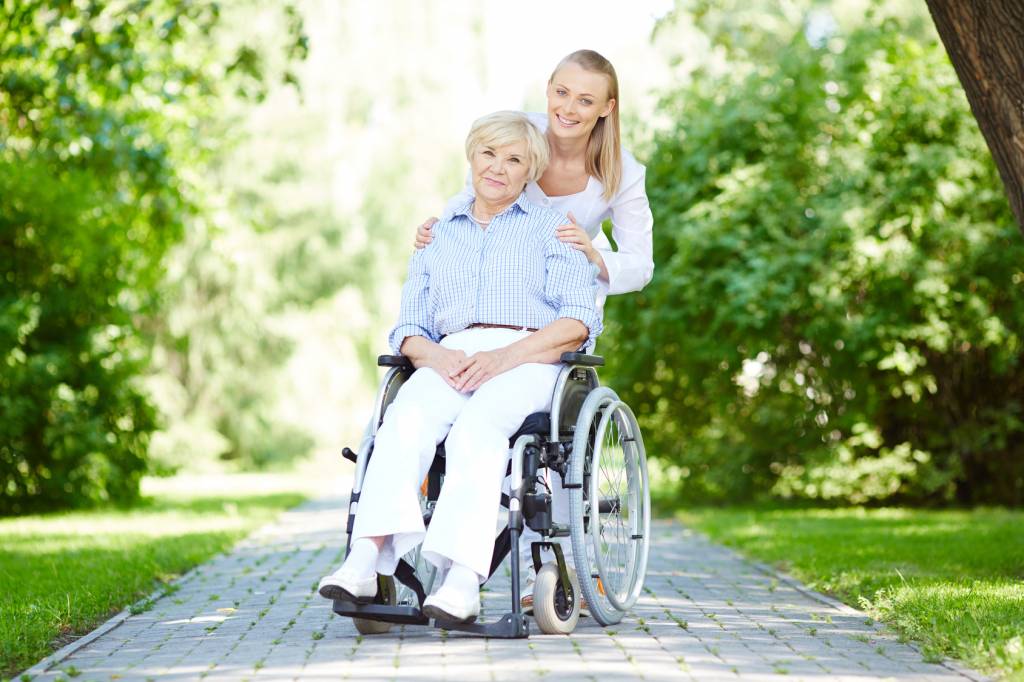 Hire Professional Home Care
After a hospital stay, seniors are likely to be physically weak and mentally and emotionally overwhelmed. They will need compassionate and reliable support in order to recover and heal properly.
Family members may be willing to provide the help their senior loved one needs, but sometimes they may not be able to take the additional responsibility of caregiving or may not have the skills to care for someone with increased medical needs. This is where professional home care comes in.
Elder care agencies offer home care services that facilitate the recovery process, improve the quality of life of senior patients, ensure compliance with discharge instructions, and alleviate pressure on family caregivers. A trained caregiver can help with personal care, transportation to doctor's appointments, prescription pick-ups and grocery shopping, light housework and meal preparation, medication reminders and assistance with medical equipment, etc. An extra, experienced set of hands will ensure everyone's peace of mind and will minimize the risk of hospital readmission for the senior.
---
Good to know: Hospital readmission rates reveal that many seniors return to the hospital due to medication errors, falling and getting injured while moving around the home, or failing to maintain proper nutrition. Having a professional caregiver to help the elderly at home eliminates all these risks.
Depending on the type of care needed, skilled home health care may be required upon discharge. If not, unskilled personal care can provide valuable support for the whole family.
Once you have determined the kind of care your loved one requires, make sure you find an experienced and trustworthy home care provider that you and your relative feel comfortable with. Choose a reputable senior care agency to work with and look for a skillful, compassionate, and reliable caregiver with experience in caring for patients with the same or similar conditions as your loved one.
Home care agencies can help fill the gaps in hospital-to-home transition and speed up recovery. If an agency is chosen before discharge, discharge planners can contact the home care company and coordinate post hospital care before the patient returns home.
---
Benefits of Professional Home Care After Discharge from Hospital
In-home caregivers will help the elderly with whatever they may need, so they can rest, regain their strength, and heal properly. Proper care and support will also help senior patients avoid returning to the hospital due to an injury, fall, or illness.
Home care companies provide personal care, compassionate companionship, and various other services to ensure a smooth transition from hospital to home for seniors:
Medication management – Professional caregivers provide medication reminders and assistance with medical equipment. They ensure that any changes to the senior's medication regimen are applied and adhered to and guarantee compliance with discharge directives to remain in bed, get up and walk around every so often, or perform therapeutic exercises. Trained caregivers can also help seniors by monitoring for signs of relapse, complications, anxiety and depression;
Personal care – Professional caregivers help the elderly with meal preparation and personal hygiene (such as bathing, grooming, getting dressed, using the toilet, etc.) and provide assistance with mobility (assisting the elderly as they move around the home, assisting with positioning in bed, wheelchair, and others, assisting with transferring to/from bed, wheelchair, toilet, etc.);
Housekeeping and transportation – Professional caregivers help keep the home clean and organized, wash dishes, make beds and change bedding, do the laundry, run errands for the elderly, and provide rides to doctor's appointments;
Emotional care and support – Professional caregivers display empathy, provide companionship, and act as a nurturing presence through conversations, games, and other engaging activities.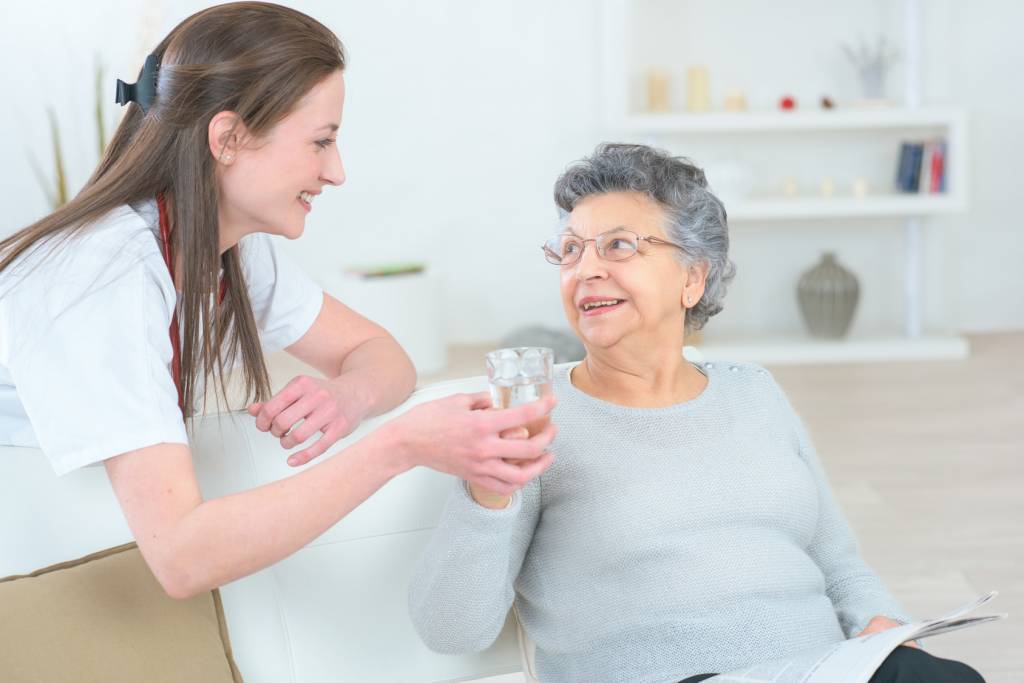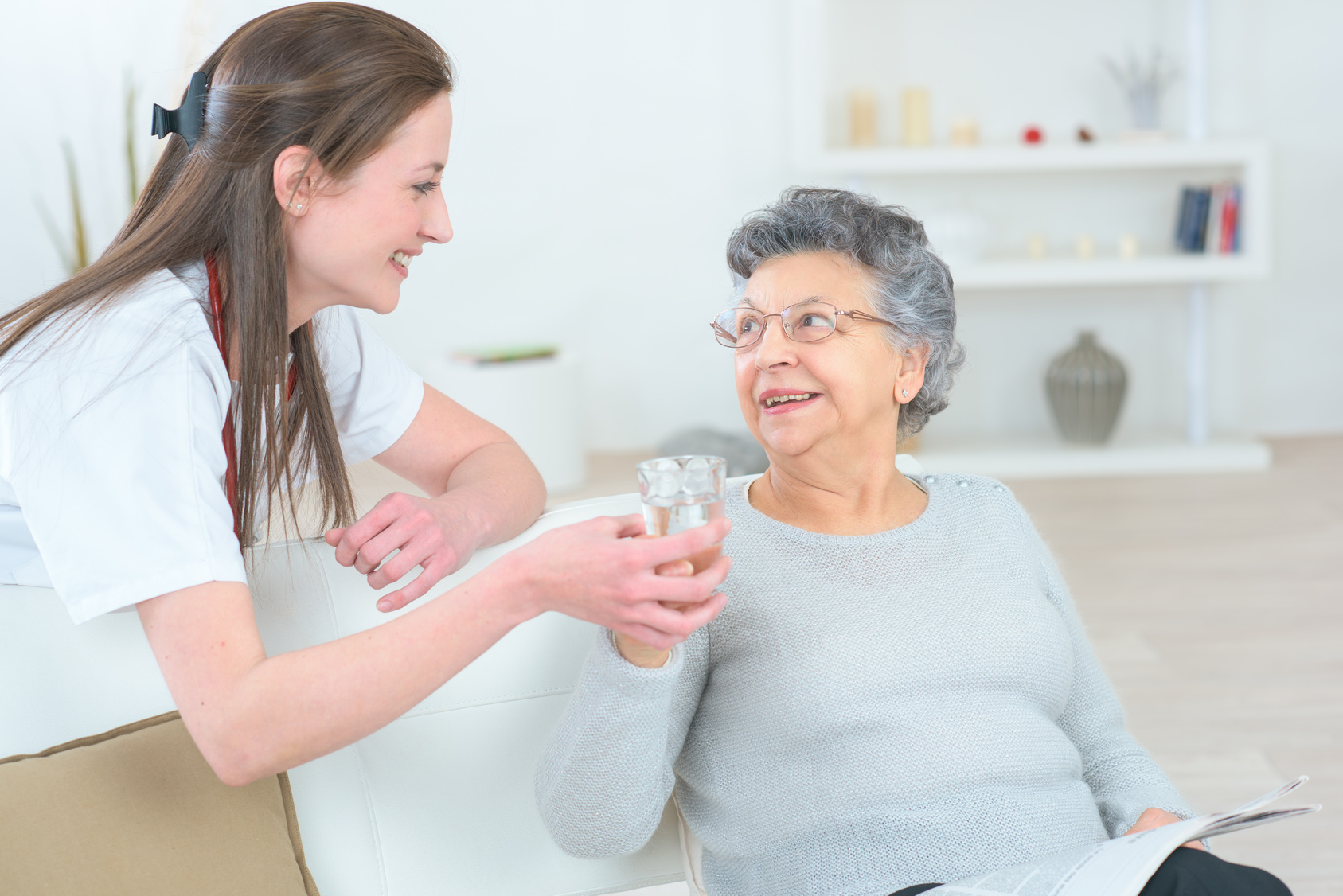 In-home care for seniors keeps them safe and focused on recovery after discharge from the hospital:
Home care providers incorporate all discharge directives into a personalized plan of care, helping the elderly avoid medication errors, falls, and other accidents and complications that could lead to readmission into the hospital;
Meal preparation services help the elderly get the nutrition they need to heal quickly;
Housekeeping services ensure the senior is recovering in a clean and comfortable environment;
Transportation services ensure safe transportation to follow-up doctor's appointments;
Emotional support greatly speeds recovery.
Professional home care can be provided for either short- or long-term periods, depending on the senior's condition and their family's needs and preferences.
---
Assisting Hands Home Care Will Ease the Hospital-to-Home Transition for Your Senior Loved One
If you have a senior loved one who needs post discharge care in the Batavia, IL, area, you can count on Assisting Hands Home Care – as one of the most reputable and most responsive home care providers in the community, we can send a qualified caregiver to your home within 48 hours and ensure a successful hospital-to-home transition for your family member.
Our experienced caregivers will coordinate post hospital care with your loved one's physician, take your elderly relative to doctor's appointments and ensure their medication schedule is followed as directed. They will also provide light housekeeping, prepare meals, and take care of errands, will help your loved one bathe and get dressed, and will prevent falls by assisting the senior throughout the home. If your loved one wants to get out of the house, meet friends, or attend a social event, our caregivers will assist them with social outings as well. Whether your family member needs temporary care or long-term care, there won't be a lapse in caregiver availability at any time as we can provide a replacement to cover any absences. Give us a call at (630) 332-2203 to learn more about our quality senior home care services.