Deciding to age at home has become the most popular choice of baby boomers as they reach retirement age.  Studies by the AARP have shown that nearly 90 percent of senior citizens prefer this option to leaving their homes to live in an assisted living community or retirement home.  The services of home care agencies like Assisting Hands have made it possible for seniors to age in place while receiving the care they need to live safely and comfortably.
One thing to keep in mind if your senior parents have decided to age in place is that their home will become less safe as they age.  Common features of a home like stairs, bathrooms, and rugs can become hazardous for those with limited mobility or cognitive ability.  Trip hazards can be especially dangerous as falls in the home are one of the most common causes of injuries among seniors.
When seniors decide to age in place, they typically do not take any action to make their homes safer.  If your parents are choosing to age at home, you must help make sure their home is safe to avoid accidents and injuries and protect their well-being.  The following tips will help you improve the safety of your senior loved one's home so they can safely age in place.
Check Every Room in the House
You should start by going from room to room in the home and identifying anything that could present a problem.  Make sure you check for the following:
Frequently used items that are out of reach
Objects at risk of falling
Potential trip hazards, especially in the dark
Furniture and other objects that stick out
If you are familiar with your parents' home, it could be easy for you to miss things that present a hazard to your elderly parents.  It helps to check the home with a friend who is less familiar with the surroundings and can better point out potential hazards.  You should go through the home with a notepad and write down all potential issues that need to be resolved.
Clear Clutter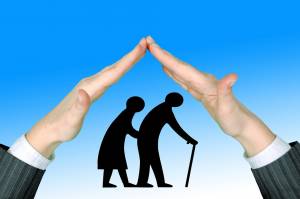 One of the things you should be looking for as you move throughout the home is clutter that presents a tripping hazard.  The combination of reduced vision and limited mobility makes tripping a high risk for seniors and it can lead to serious injuries.  Therefore, all doorways, hallways, areas near stairs, and other high traffic areas should be free of items that could lead to tripping.
When clearing clutter, put the items away in an area where they are not a danger to your loved ones.  If there are is simply too much stuff in the home to keep it free of clutter, consider donating or giving away some items.  A professional home caregiver can help control the clutter buildup.
Move Furniture If Necessary
In order to keep walking paths clear, you may need to move the furniture to create more space.  Move furniture that is partially blocking a path or sticking out and put it against the wall if possible.  If there is too much furniture to keep safely out of the way, something might have to go to create space.  Make sure you have someone to help you move furniture to avoid hurting yourself.
Remove Area Rugs
Area rugs add a nice touch to the interior décor of a home, but they are simply too dangerous to keep in the homes of seniors.  Area rugs are a trip hazard as seniors may trip over the edges or raised spots on the rug.  If there are area rugs in your elderly parents' home, remove them and either give them away to friends and family, donate them, or put them in storage.
Improve the Lighting
If your elderly parents have impaired vision, poor lighting will make this worse.  Make sure the lighting in the home is adequate so your loved ones can see clearly as they move about the home.  You should also consider adding stick on lights along walls to prevent tripping and under sinks and cabinets so your loved ones can find things in these areas.  Stick on tap lights are a great option because you can put them just about anywhere and they run on batteries so there are no cords that can be a trip hazard.
It is important for your elderly loved ones to be able to turn on lights easily so they can move safely throughout the home.  You can install a clapper so your loved ones can turn on lights by clapping or use smart lights that can be controlled with voice commands.
Check for Loose Handrails and Stairs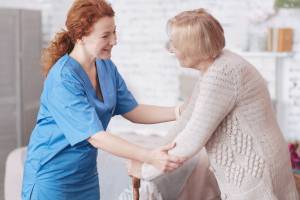 If your elderly loved ones use stairs in their home, you must make sure the stairways are as safe as possible.  Check all handrails along the stairs and make sure they are secured.  Install handrails if the stairways do not already have them.  You should also check for loose or damaged stairs and fix them right away.  The stairs should be free of rugs and other coverings that could cause tripping.
Improve the Safety of the Bathroom
The bathroom is one of the most dangerous areas in the home for senior citizens.  Those with limited mobility may have a difficult time getting in and out of the bathtub, shower, or toilet and wet floors make slipping a high possibility.  You can make the bathroom much safer by installing grab bars near the toilet and bathtub to help your loved ones get in and out.  These grab bars must be properly installed and secured.
If your loved ones have to step over a high bathtub to bathe or shower, you should consider replacing the tub with a walk-in tub.  These bathtubs eliminate the need for seniors to step over the side.
Hire a Professional Cleaner
A big part of keeping the home safe is keeping it clean.  If the home is not regularly cleaned, dirt will buildup and lead to unsanitary conditions that can affect the health of your loved ones.  If your elderly parents need help keeping the home clean, hire a professional cleaning service.  These professionals will come to the home on a regular basis to keep it clean and sanitary.
Make an Emergency Contact List
An emergency can happen at any time which is why an emergency contact list should be made and easily accessible in your loved one's home.  This list should contain the contact information for family members, friends, caregivers, and medical providers.  Make multiple copies of the contact list and place them around the home including on the refrigerator, by the phone, and by the bed so they can easily reach the contact list in an emergency.  You should also make sure your loved ones know what to do and who to call in specific emergencies.
Install a Medical Response System
While having an emergency contact list handy is important, it won't be of much help in certain emergencies.  If a senior is incapacitated due to a medical emergency, they will not be able to reach the list or call for help.  Medical response systems will monitor your loved ones and immediately contact family members and emergency responders if something goes wrong.  The immediate alerts sent out by emergency response systems can save your loves ones' lives.
Get In-Home Care from a Home Care Agency
Following the steps outlined above will help make your loved one's home much safer and give you some peace of mind while they age in place.  While these improvements will increase the safety of the home, there is still a chance a major emergency can occur while they are home alone.  Hiring a home care professional like Assisting Hands to provide senior home care will ensure that there is a professional caregiver in the home to provide any care and assistance needed and react in case of an emergency.
At Assisting Hands Richmond, our caregivers do so much more than provide care for your loved ones.  We will ensure their care needs are met while also helping to keep the home clean, prepare meals, and provide transportation to get your loved ones to important events and appointments.  Most importantly, we will also be companions for your loved ones, getting to know them on a personal level.
If your aging parents in the Richmond, VA area could benefit from professional in-home care services, contact Assisting Hands Richmond at (804) 533-6505 to learn more.