As people reach their golden years, everyday tasks that were once simple to do can become more difficult to perform. For example, cooking meals or taking a bath or shower may prove to be a tough task. To do these activities safely and successfully, a great number of elderly individuals will need home care assistance. Old age can also cause individuals to become more forgetful. Seniors who are affected by Alzheimer's disease or another form of dementia suffer from loss of memory and cognitive ability.
Issues with Forgetting to Take Medications

If seniors have prescription medications they need to take, forgetfulness is especially concerning. It may cause them to miss doses, take too many doses, and/or take their medication incorrectly.
The mere idea of having to take medications seems simple enough. But the more medications you take, the more complicated it can be, because there are more instructions you need to take into account. You need to know how the medication should be taken, what time(s) of day to take the medication(s), and in what dosage to take the medication(s). Keeping track of all this information can be overwhelming and result in improper medication use.
Assistance When Taking Medications
If you or another relative acts as a caregiver to an elderly loved one, then it's important to help with this. Family caregivers can not only provide their loved ones with medication reminders, but they can help make sure necessary medications are taken correctly.
Continue reading to learn more about the various ways that family caregivers can help their elderly loved ones with medications.
Medication Reminders
The last thing any relative wants is for your elderly loved one to suffer from a medical issue that could have been prevented if they only remembered to take their necessary medication. That said, family caregivers can prevent missed doses by providing seniors with medication reminders.
As aforementioned, elderly individuals can be forgetful, and some seniors may have Alzheimer's disease or another form of dementia that hinders their memory. Because of this, it can be helpful for seniors to have their family caregiver be a memory aid to them.
Proper Medication Intake
In many cases, medications come with a lot of instructions beyond the dosage amount: how to take it, when to take it, what not to take it with, and more. While it can be a lot of information to take in, it's important that these instructions are followed. Otherwise, improper medication intake can make the medication ineffective and/or result in complications.
Family caregivers can help their elderly loved ones by reviewing the medication instructions and making sure those instructions are followed.
Medication Pickups
Family caregivers can provide further assistance to seniors by keeping track of medications and by picking up medications and refills. This ensures that elderly individuals don't run out of their necessary prescriptions and don't miss any doses because of it.
This can be especially helpful, because many elderly individuals give up their driving privileges. Without a convenient way to get to the drugstore, it can be easy to miss doses. But with a caregiver's help, that doesn't have to be the case.
Medical Check-Ins
Seniors will have medical appointments with their doctor where they'll not only check in on their status but review how the medications are working. Sometimes, the physician will alter the medication doses or prescribe something new.
Family caregivers should consider accompanying their loved ones to medical appointments so that they are not only informed of their condition but also so they are aware of any medication changes. Additionally, by coming to the medical appointment, caregivers can inform the doctor of any concerns and discuss their loved one's condition.
Non-Medical Home Health Care for Your Elderly Loved Ones
Many adult children and other relatives will take it upon themselves to provide their elderly loved ones with senior care when they require it, helping with medication reminders and more. Some seniors will only need part-time help while other seniors will require full-time care, but not all families can cover their elderly relative's care needs.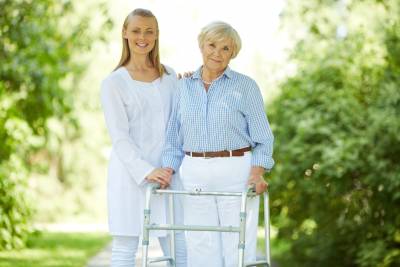 If you have an elderly loved one who needs a caregiver to help with medication reminders and more, then seek professional home health care services for help.
At Assisting Hands Home Care, we provide seniors in Fort Myers, FL, and the neighboring areas with in-home care services. With our senior care services, elderly individuals can continue to live at home safely, as we provide them the care and assistance they need within the comfort of their home. This also means seniors don't need to leave their homes to live and receive care at an assisted living facility, nursing home, or retirement home.
Within our elderly care services, Assisting Hands Home Care provides seniors with a skilled, qualified caregiver who will provide medication reminders and help with whatever they need. We cater to seniors' unique care needs by creating a customized care plan for each client. With our senior and custodial care services, you can have peace-of-mind knowing that your elderly loved one has the care and help they need.