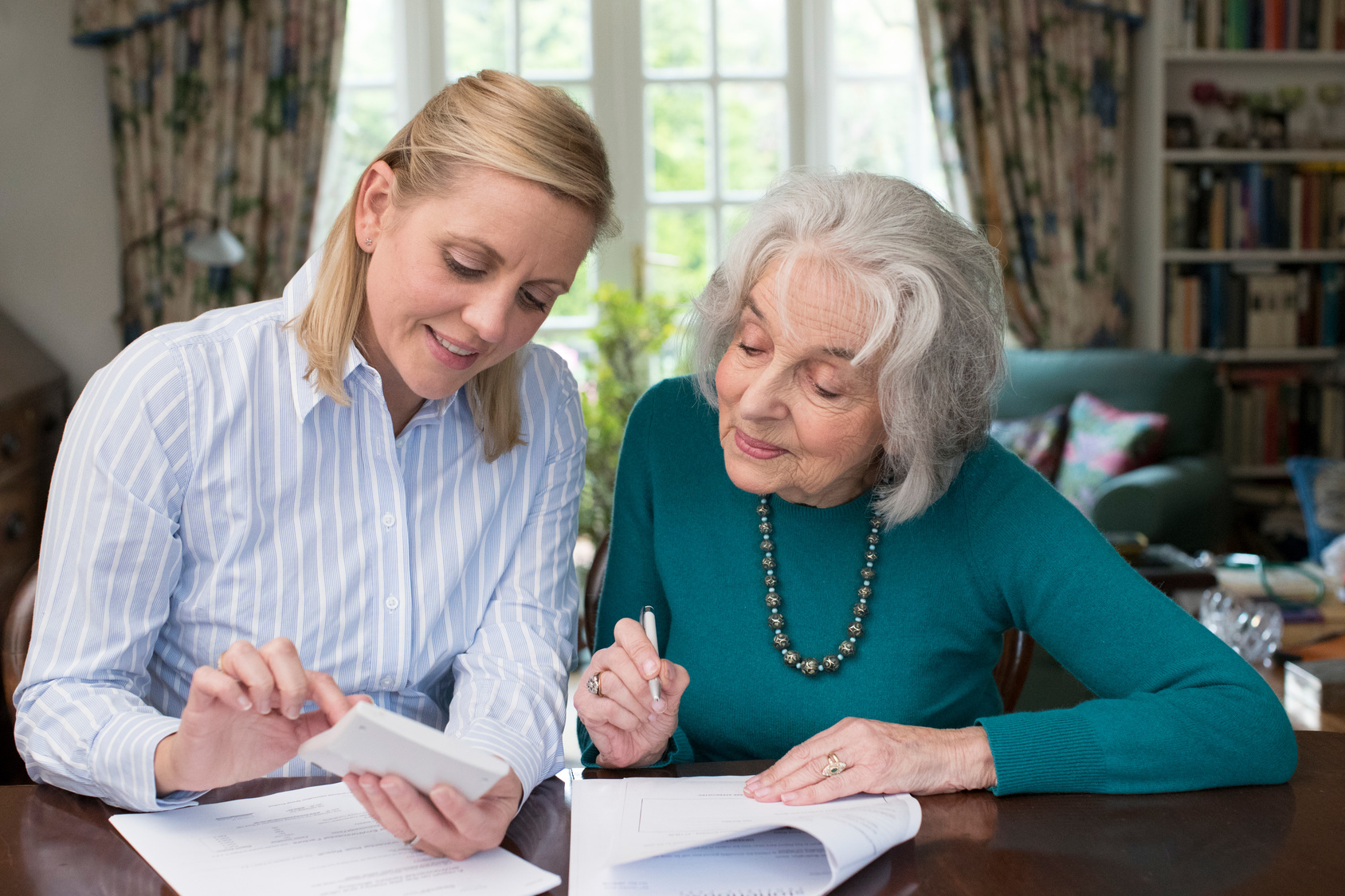 People are living longer—with 30 more years added to the average life in comparison to a century ago. Despite the fact that Americans have longer lifespans than previous generations, a remarkable 50 percent are unprepared to adequately finance their golden years.
Investigating Financial Health
Adult children have the responsibility to investigate their parents' financial health and should be ready to handle anything from slim savings to a lack of preparedness for finding accommodations suited for aging individuals.
Since elderly parents are likely to have preferences when it comes to deciding where to live, how to manage existing finances and end-of-life wishes, family members should ask the appropriate financial questions. The responses help family members pursue the most fitting financial route.
It is important to start discussions about finances early, before ill health issues impair the aging parents' decision-making skills. Introduce the topic gradually. Initiate the subject by discussing, for example, a recent setup of a living trust or a news report about financial scams targeting the elderly.
Once the door to financial matters is open, it is easier to start asking questions that will make a profound difference in the parents' quality of life. Understanding the parents' financial situation is invaluable when a sudden illness strikes and circumstances require immediate financial decisions.
Question 1: Are legal provisions for care in place?
Older parents benefit from having a durable power of attorney, which designates an individual to make healthcare or financial decisions (or both) on the senior's behalf in the event of physical or cognitive incapacitation. Adult children should know who are appointed to serve as the seniors' financial and healthcare proxies.
Seniors may have a written will, a legal document that indicates instructions for distributing the individual's assets. A living will may also have been created. Intended to state the senior's wishes for end-of-life care, the living will is legally binding and works in conjunction with a medical power of attorney.
Significant paperwork like those mentioned above should be updated regularly to be properly executed at the appropriate time. Annually revisiting these legal documents, plus established plans for long- and short-term care and estate plans is sufficient to keep them current.
Additionally, if estate plans, trusts and other legal documents have been created, it is likely the seniors are under the guidance of an attorney or financial adviser. If the parents are working with advisers, obtain the contact information of these professionals to reach them in the event of an emergency.
Question 2: Where are important documents stored?
When caught off guard by a parent's healthcare emergency, family members are left scrambling to find the necessary information. Prevent this issue from arising by knowing where parents keep their critical documents. Keep the paperwork in one safe space that is accessible to appointed family members.
Examples of vital documents to know the location of include the parents' wills and trusts, Social Security and Medicare information, retirement and pension accounts, deeds and titles to properties, car title and registration, tax returns, healthcare insurance policies and long-term care policies.
Question 3: What are future plans?
In the event an aging parent is no longer able to live independently, alternative arrangements, such as in-home care, assisted living or staying with family, should be made. Avoid making hasty and uninformed decisions by having the discussion with parents well in advance of ailing health.
A private unit in an assisted living facility in Illinois costs, on average, $4000 per month or $48,000 each year. Retirement income, savings accounts, investments and other income sources are commonly used to cover the high costs of living in senior communities.
Paying out of pocket to reside in senior living communities is an option for seniors with significant savings. When parents do not have the funds to finance a stay in assisted living facilities, adult children and parents should discuss alternate means of funding, such as selling a home.
End-of-life care wishes should also be made clear, especially if parents' have strong preferences. Adult children should be aware of parents' views about medical care that extends life, such as life support and CPR. Decisions regarding healthcare should also be presented in a living will or healthcare proxy.
Question 4: Are health and long-term care insurance policies in use?
Medical care costs can skyrocket in an extremely short span of time. Retirement income can be drained rapidly to cover healthcare costs. If parents have health insurance, become familiar with the policies. Know what is covered and what are the policy limits and exclusions.
Question 5: Is the parent under medical care?
The health of aging parents is intertwined with future plans, including financial ones. Chronic health conditions can drive healthcare expenses upward rapidly. Ongoing physical therapy, routine doctor's examinations, visits to specialists and prescription medications are examples of regular healthcare costs.
It is important for adult children to know who is the senior's primary care physician and have their contact information on hand. In the case of an emergency, calls can be quickly made.
Using Home Care
When parents express wishes to remain in the comfort of home and receive in-home assistance, introduce Assisting Hands Home Care. As a premier senior care agency, our invaluable caregiving services meet the non-medical needs of every senior whose care we are privileged to provide.
Whether parents' needs are temporary or long-term, Assisting Hands Home Care is positioned to provide exceptional care. We offer respite care, 24-hour care, hospice care, and live-in care to accommodate our care recipients and their families.
Assisting Hands Home Care
Our comprehensive, non-medical services include assistance with grooming, toileting, bathing, meal preparation and transportation, among many other essential services. Professional caregivers from Assisting Hands Home Care also provide companionship to ease loneliness and isolation.
Aging parents deserve the most compassionate in-home senior care services. Assisting Hands Home Care is prepared to deliver the best in elder home care. Our licensed, bonded and insured caregivers are available to meet the care needs of local senior populations and their families.