Being at home often provides people with comfort, so it's no surprise that seniors are increasingly deciding to stay at home to age instead of opting to live in an assisted living facility or a nursing home. But as people reach old age, they may begin to have difficulties successfully going about their everyday lives. Routine activities and daily tasks, such as bathing and cooking, might be tough to do. If elderly individuals do not have the help they need at home, then they will continue to struggle to take care of themselves and to live a healthy life.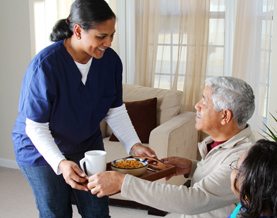 Knowing this, it is important to pay attention to your elderly loved ones and watch for the following signs, as they may indicate that your elderly relative needs home care.
1. Personal Hygiene Problems
If you notice that your elderly loved one has body odor, bad breath, or hasn't maintained their appearance, then this might be a sign that they can no longer take care of their personal hygiene on their own. They may have a tough time bathing or showering safely, cannot brush their teeth, and/or groom themselves, so they instead opt not to. With home care help, a caregiver will be available to assist seniors with personal hygiene tasks to ensure they stay clean and maintain good personal hygiene.
2. Food and Nutritional Concerns
Pay attention to the food in your elderly relative's home. If you notice a lack of food, rotten food, or a plethora of frozen TV dinners, this is concerning. These can mean various things. Seniors may be unaware of their need for new food, or they may not be eating enough if at all. It can also mean that they're unable to prepare nutritious meals for themselves and have resorted to easier-to-prepare meals. Regardless, it's important that seniors get regular, nutritious meals that help them maintain good health and give them the energy they need.
With home care services, a caregiver can help with this by preparing daily meals for them and handling the cleanup. Caregivers can even handle the grocery shopping if necessary.
3. Difficulties with Activities of Daily Living
Personal hygiene and eating are just two of the activities of daily living (ADLs). Other ADLs include mobility, dressing oneself, and continence. If you have an elderly loved one who struggles with any of these functions, then they would greatly benefit from home care. Caregivers can help seniors get dressed for the day and for bed and get in and out of bed. Caregivers also provide assistance with mobility, transferring, and bathroom use.
4. Messy Living Space
If you notice that your elderly relative's home is often messy when you visit, then this may indicate that your loved one is unable to do regular housekeeping that ensures their home's cleanliness. Whether it be a pileup of dirty dishes, overflowing garbage, or an accumulation of dirty laundry, it's important that your loved one maintains a clean home so that they are in a healthy living space. However, this is impossible if they cannot clean their home themselves. With home care help, a caregiver will do light housekeeping chores to ensure your loved one's home remains tidy and healthy to live in.
5. Injuries
Falls are a top cause of injuries among seniors, so you need to be wary of any injuries your elderly loved ones may have suffered. Stay alert for any bruising or discoloration, as they may indicate an elderly individual has sustained an injury. The injury may have been a result of tripping hazards, a decline in motor skills, or general mobility difficulties. With home care assistance, though, a caregiver will be there to help your loved one safely move around their home and will even work to eliminate tripping hazards.
6. Forgetfulness
If an elderly individual starts to become forgetful, this can be detrimental to their health and well-being. What may simply begin as misplacing something can transition into bigger concerns, such as forgetting to bathe or eat on a regular basis. This forgetfulness might even indicate Alzheimer's disease or another form of dementia. In such a case, it is crucial to get your elderly loved one home care. A caregiver will help them with various activities of daily living and can also provide special memory care services if needed.
7. Driving Issues/Accidents
Any concerns regarding a senior's driving must be taken seriously. If they have trouble driving or have been getting into accidents, then it's in everyone's best interest that the senior gives up their driving privileges. Elderly individuals may not have the vision or reflexes necessary to drive safely. Some seniors may experience forgetfulness, which can make it unsafe for them to drive.
It can be understandably upsetting for seniors to give up driving, but with home care services, caregivers can help out with transportation. In addition to running errands, a caregiver can provide seniors with transportation to whatever places and events they wish to go to.
Getting Your Elderly Loved Ones Home Care
If you find that your aging loved one has experienced any of the aforementioned signs, then you should get them home care help. This will ensure your elderly relative receives the help they need to go about their lives successfully and can maintain their health and well-being.
At Assisting Hands Home Care, we provide numerous home health care services to elderly individuals in need in Park Ridge, IL, and the surrounding areas. From elderly care to Alzheimer's and dementia care to post-surgical care, Assisting Hands Home Care has a variety of services to help your loved ones. We take pride in the fact that we customize every care plan to the client, because it ensures they will get the help they need and deserve. Additionally, all of the caregivers we employ at Assisting Hands Home Care are properly trained, bonded, and insured to provide home care services, so you can trust that your loved ones are being well cared for.