When it comes to that point in time where your loved one cannot care for themselves anymore, it is often a hard transition. They want to be as independent as possible and keep their dignity. In-home care services are a great option for helping them keep as much independence right in the comfort of their homes. Even though your loved one is staying in their home it can still be a hard transition for both the client and the family members to accept.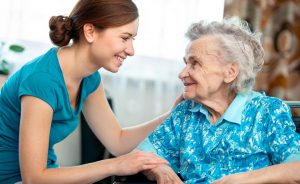 Here are a couple of things you should keep in mind to assist the in-home care transition with your loved one:
If possible, start gradually. If they are 90% independent and need assistance with things such as errands, laundry, meal preparation, etc. Start gradual services and incorporate more hours as needed.
Talk to them about what they are scared and or nervous about when it comes to additional help. If they can do an interview and or meeting with the potential aid this also helps as they have more power in choosing who comes to assist them. Just ask your agency if this is possible.
Use the "This is prescribed by the doctor" or "Your doctor recommends that you have extra assistance due to your recent falls" phrases. Doctors are understood as authority figures in a general person's life and your loved one may be more willing to accept the help if they feel they are medically recommended to do so.
Use things like "I need someone to help clean your home". Most caregivers do light housekeeping and your loved one might be more accepting of the idea of having someone there to do cleaning and other duties than to feel they are there for just assisting them.
If they are truly not okay with the idea, you can try the route of "This is for me. I know you don't need the help". In this case, you are expressing the need as yours, maintaining their sense of dignity and independence, but allowing them to feel like they are making you feel less worried.
Prepare a binder of things that is important for the caregiver to know such as:

Their daily routine
Favorite foods for potential meal preparation
A brief history of people, places, and things they like.
Medication Log

Most agencies have the family provide any necessary items for care. Be prepared and have gloves, wipes, depends, overall, any essential items needed for your loved one to help the caregiver provide the best care.
Contact Assisting Hands Home Care
Assisting Hands Home Care is experienced in working with diverse clients and has helped many seniors transition into home care.
For more information on how we can help your loved one feel more comfortable with home care, give us a call at (847) 448-0844 or fill out a form.