Seniors who rely on caregivers to accomplish the activities of daily living invest a significant amount of trust in these professionals. Bathing, toileting and grooming are extremely personal activities and require a huge level of comfort to allow a caregiver to help. It's a given that trust and comfort are built over time. When circumstances warrant a new caregiver, it is understandable when seniors hesitate.
When are new caregivers necessary?
Professional caregivers perform their duties like any other employee. Being employed means time off for sickness, vacations and emergencies is part of the course; caregivers may also quit. Any of these common job-related scenarios will bring a new caregiver into the picture.
Caregiving requirements also change over time. A senior who is released from the hospital after surgery will benefit from the temporary care of a licensed nurse. Wound dressings are changed and vital signs are taken. Once the surgical wounds heal, the clinical services of the nurse are no longer needed.
The senior may discover, post-surgery, the need for help with some activities of daily living. If the senior experiences limited mobility as a consequence of surgery, a non-medical caregiver may be needed to provide support with transportation, meal preparation, bathing and dressing.
At any time, an elderly individual may switch from clinical care to non-medical care. The same is true if the situation were reversed. Since non-medical caregivers are not qualified to provide medical care, a new, licensed caregiver may be necessary. In either case, a transition in caregivers is warranted.
What are signs to look for while hiring?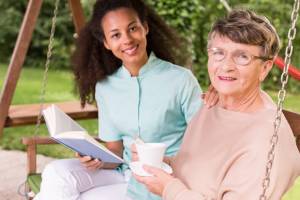 Prior to starting the hiring process of a caregiver, investigate several home care agencies. Senior care agencies that meet varying personal requirements should allow all potential caregivers to be interviewed by the family. Reputable home care agencies work with families to ensure a match.
Equally important is to involve the senior in the hiring process. Invite the senior to interviews. Assess the interactions between the interviewee and the senior to determine compatibility. A caregiver who forms instant rapport with the senior shows the likelihood of a good fit.
Signs of immediate bonding between the potential caregiver and senior during the interview process is indicative of congenial future interactions. Establishing a connection through good-natured conversation and sharing common interests or hobbies through conversation is important in evaluating mutual rapport.
A caregiver with an appreciation for golf will have plenty in common with a senior who expresses avid interest in the sport. A relationship emerges as the two discuss the latest and greatest in golf sportsmanship. A single commonality like this opens up the doors to a well-matched, professional association.
What are ways to increase comfort?
After the hiring process, the next phase in ensuring the elder's comfort is to continue to build the relationship. The senior may resist opening up at first, but gentle efforts to get to know the individual go a long way toward a lasting caregiver/care-recipient relationship.
A family member's presence during the first few caregiver visits helps promote ease in the senior. The family member may initiate discussions between the caregiver and care recipient by presenting family memorabilia or photo albums. The conversations that follow help the senior become accustomed to the new caregiver.
If the senior enjoys soothing activities, like flower arranging or quilting, family members can ensure supplies are available. The caregiver who demonstrated shared interests during the interview has ample resources to participate in the activities with the senior, while helping the elder feel at home with the new professional.
What are ways to develop ease with caregiving teams?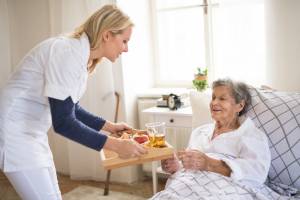 Some seniors require the services of multiple caregivers. Two or more caregivers may be necessary when 24-hour home care is hired and the senior needs around-the-clock care. Alternately, an aging individual may need both nursing care and home care to meet medical and non-medical needs at once.
While most seniors prefer to work with one caregiver, it is not always possible to meet all their needs with just one professional on board. A senior's favorite caregiver, who has established trust and respect, is well-suited to introduce the new caregiver who is scheduled to work the following shift.
What are signs of compatibility?
Seniors who find comfort in a caregiver or a team of caregivers will experience greater joy and well-being while receiving assistance at home. The aging individual who looks forward to caregiving visits indicates that a positive, professional relationship has been established.
Seniors who successfully transition to new caregivers are comfortable asking for help. When the home is in order and chores get done, it is a good sign that the senior trusts the professional. Seniors who feel free to move about the home while the caregiver is present demonstrate ease.
What are signs of incompatibility?
When the senior is unable to adjust to a new caregiver, telltale signals erupt. Signs of a mismatch include constant complaints or when the senior attempts to hide from the caregiver due to uneasiness. Chores left undone suggest the senior hesitates to ask the caregiver for help.
Adjusting to a new professional in one's home can be intimidating, especially for vulnerable seniors. Assisting Hands Home Care makes every effort to promote comfort and compatibility when caregivers are sent to care recipients' homes. Our strict recruitment process ensures the caregivers on our team are thoroughly qualified and trained.
Assisting Hands Home Care

As a premier home care agency, Assisting Hands provides comprehensive elder care services, ranging from the activities of daily living, like help with bathing, grooming and meal preparation, to more advanced services, like dementia care and Alzheimer's care. We support elders as they transition to hospice care or require 24-hour care. Our respite care services are invaluable to families who need a break from daily caregiving responsibilities.
Families and their elder loved ones residing in the communities surrounding Richmond, Virginia, rely on Assisting Hands Home Care for all their non-medical senior care needs. We pride ourselves on our unwavering dedication to the well-being and dignity of the senior population.