As much as people wish to stay active and independent for life, age takes its toll and there often comes a point when seniors can no longer take proper care of their affairs, their homes, and themselves and start needing help with daily activities.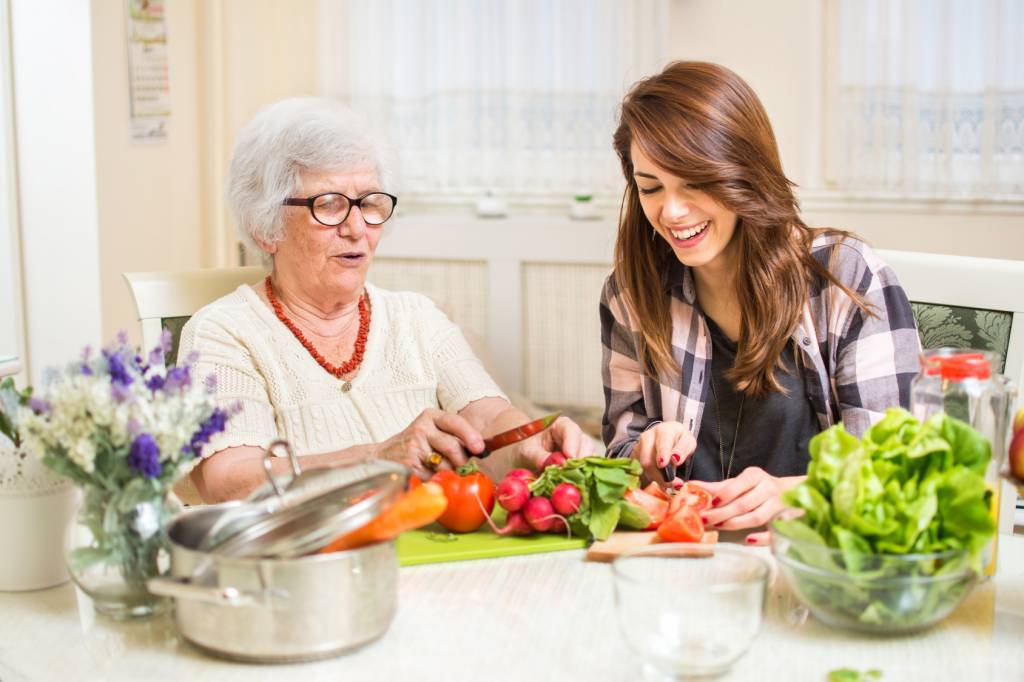 Usually, it is family members that provide the needed assistance and commit themselves to ensuring the safety and comfort of their elderly loved ones. Yet, it is very difficult to keep this up for a long time because the family caregivers have jobs and families of their own that need their attention. Besides, as the senior's mental or physical condition deteriorates over time, it may become impossible for family members to provide appropriate care. In such cases, outside help is required. 
Fortunately, there are many care options available to the elderly – from 24/7 health care in a specialized facility to hourly companion care in the home.
Ensuring the best care for your senior loved one, however, is not always easy. You need to consider the specific needs of your aging relative and know the pros and cons of each senior care option in order to make the right choice.
Here are the different types of elderly care explained to help you find the ideal solution for your aging loved one:
Skilled Care vs Custodial Care
Depending on their health condition, specific needs, and personal preferences, older adults need different types of care.
At the highest level, there are two types of care – skilled care and custodial care:
Skilled care refers to services such as nursing care and physical therapy that can be provided only by skilled or licensed medical personnel;
Custodial care is non-medical care that provides assistance with activities of daily living, such as dressing and bathing.
Both skilled and custodial care can be provided at home or at a specialized facility (such as a nursing home, residential care home, assisted living community, adult day care center, etc.).
Assisted Living Options
Whether because of a serious medical condition, difficulty living independently, or a desire to live in a more peaceful environment among other seniors, many older adults decide to leave their homes and move to an assisted living facility.
There are many different types of assisted living communities that cater to seniors with different needs:
Nursing Homes
Nursing homes (also called skilled nursing facilities) are long-term senior care facilities for elderly people who have health issues that require 24-hour, skilled nursing care.
The residents usually share rooms and have their meals in a central dining area. They receive round-the-clock assistance with activities of daily living, as well as medical care by nurses and therapists (licensed nurses are available 24/7 to provide qualified medical care, rehabilitation, and other types of professional assistance).
Good to know: Some nursing homes provide short-term rehabilitative care for seniors recovering from surgery, illness, or injury.
Assisted Living Communities
Assisted living facilities provide a senior living option suitable for older adults who are not capable of living safely on their own, but do not require round-the-clock care.
The elderly reside in private apartments but have numerous opportunities to socialize and enjoy various recreational and entertainment activities together. The three basic meals are provided in a central dining area. Staff is available 24/7 to help with meals, medication management, housekeeping, and other activities of daily living. Licensed nursing services, scheduled transportation, and personal care are also provided as needed.
Good to know: Many assisted living facilities offer specialized care for seniors with Alzheimer's and dementia – memory care involves heightened security and carefully selected activities that won't compromise the safety and well-being of dementia patients.  
Residential Care Homes
Residential care homes are private homes designed for seniors who need assistance with daily living, but wish to reside in a home-like setting where they can eat meals in a kitchen, watch television, and enjoy other activities that people normally do at home. 
Caretakers provide custodial care such as meal preparation, laundry, and light housekeeping and help the seniors with basic activities such as bathing and dressing.
Senior Independent Living Communities
Also known as retirement communities, independent living communities are ideal for seniors who can handle the basic activities of daily living on their own, but wish to enjoy an active lifestyle in a community of peers. 
The complexes consist of private apartments that vary in size from studios to two-bedroom units and offer a variety of activities and amenities for their residents. Different services, such as housekeeping, transportation, and dining are available upon request.
In-Home Care Options
According to recent studies, more than 80% of older adults in the U.S. indicate that they would prefer to "age in place". To be able to safely do so, however, most seniors need some type of in-home care:
Home Health Care
Home health care is a specific type of medical care that is typically prescribed by a doctor. It requires medical training and involves procedures such as administering injections, checking the senior's vital signs, assisting with medical equipment, monitoring of illnesses, etc.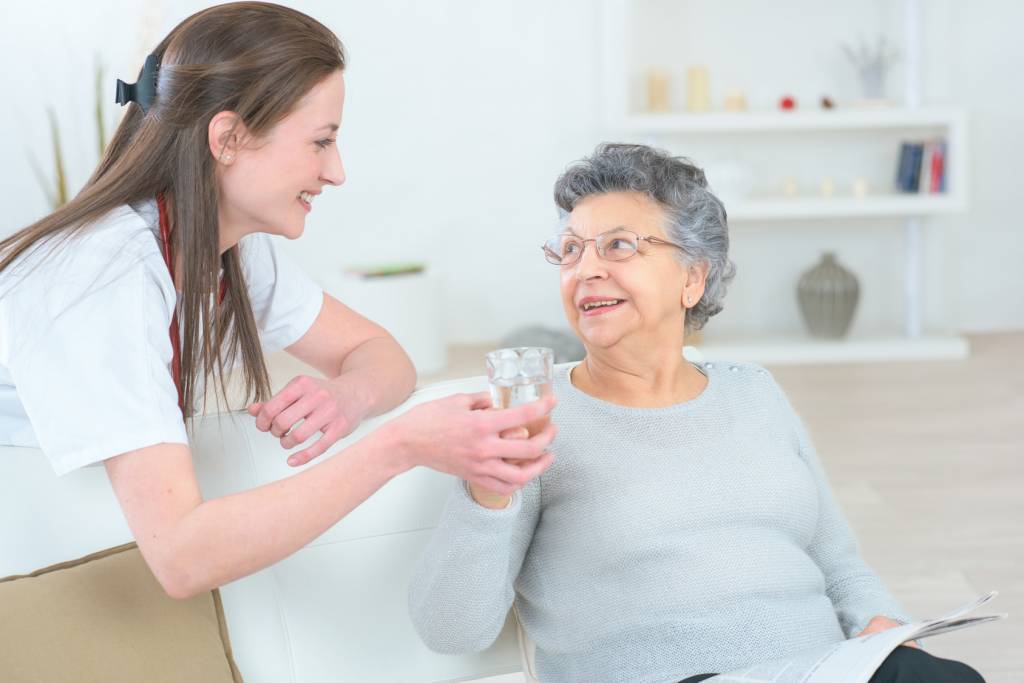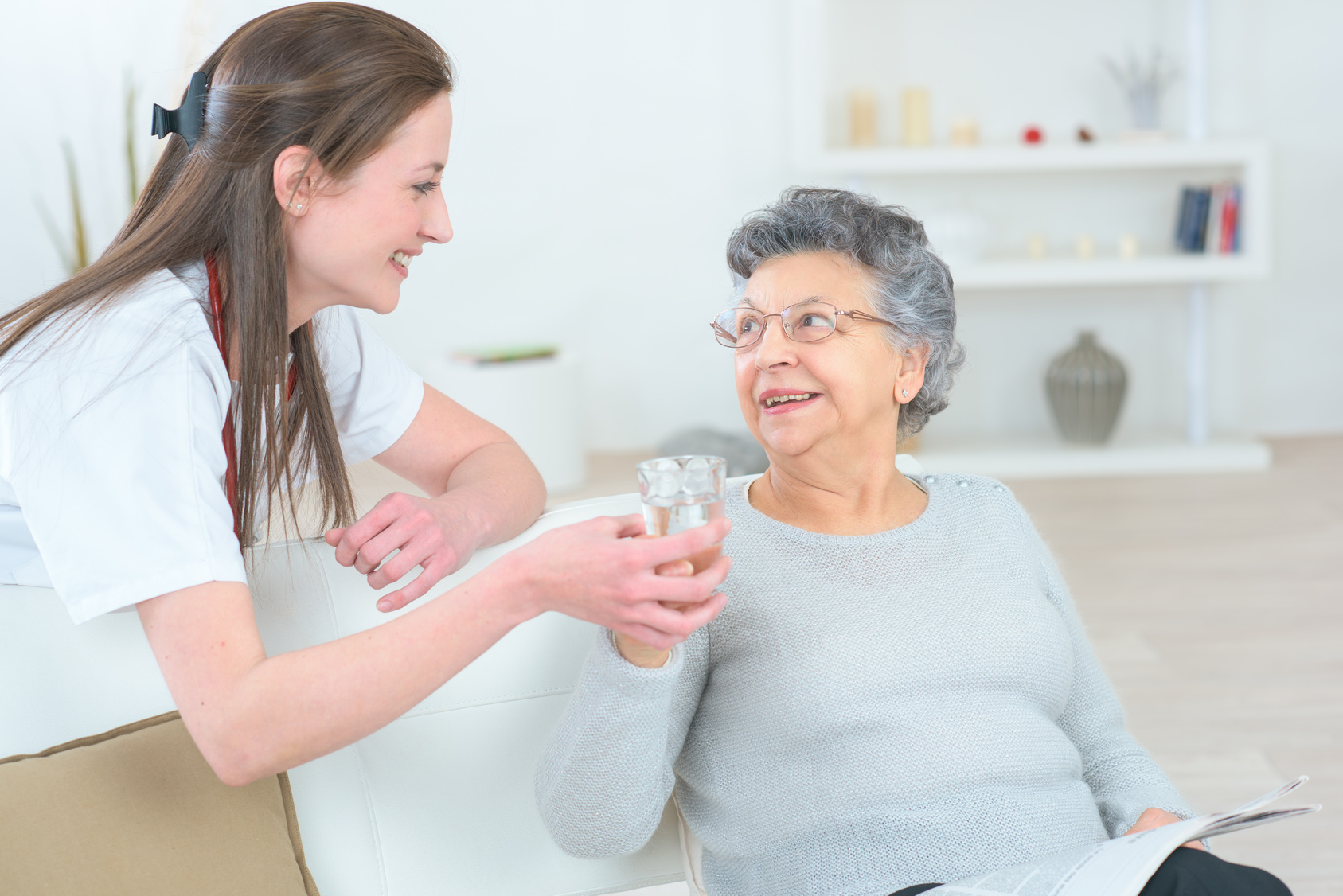 Home health care may include:
Skilled nursing care: This is the most intensive type of home health care that is required by seniors recovering from a surgery or injury, or living with a serious illness. Skilled nurses can help with wound care, braces and artificial limbs, injections and comprehensive health monitoring, and other qualified medical services;
Palliative care: A type of care that focuses on relieving seniors of their pain and suffering (unlike medical care that has the objective of curing or treating the underlying conditions);
Hospice care: Hospice care is provided to terminally ill patients in the last weeks or months of their life. It usually includes palliative care, but not all persons receiving palliative care are in hospice.
Elderly Home Care Services
Elderly home care is custodial care that allows seniors to live safely and comfortably in their own homes. It comes in many different forms – from minor help with household chores such as doing the laundry to major forms of assistance such as live-in care.
Personal Care
Professional caregivers come to the senior's house to prepare meals and help the elderly with their personal care and hygiene (such as bathing, getting dressed, using the toilet and other basic activities of daily living), as well as with Instrumental ADLs such as making appointments, paying bills, and transportation. Personal care includes:
Grocery shopping and meal preparation (any necessary dietary restrictions are followed when preparing meals);
Assisting with eating;
Assisting with bathing, using bath equipment, grooming, dental care, hair care, and nail maintenance;
Providing medication reminders;
Fall prevention and assistance with mobility – caregivers help prevent falls by clearing trip hazards in the seniors' home and assisting the elderly as they move around the home;
Assisting with positioning in bed, wheelchair, and others;
Assisting with transferring to/from bed, wheelchair, toilet, etc.
Depending on the senior's needs, caregivers can visit only a few times a week, come every day for several hours, or stay with the senior all day long.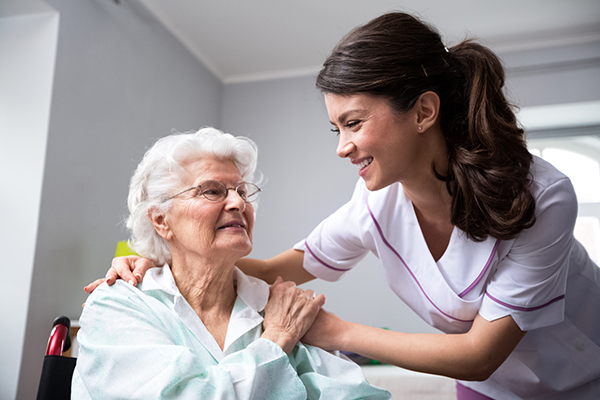 When overnight care services are needed, the caregiver arrives in the senior's home in the evening to help the person get ready for bed and stays awake all night to provide assistance when needed. It is also possible to have a caregiver stay in the senior's home 24-hours a day (live-in care).
Good to know: If it is necessary that someone is always awake and alert in the home to provide assistance at any time and respond to emergencies, two caregivers alternate 12 hour shifts. This type of service is known as 24-hour care.
Specialized Non-Medical Care
Some seniors need special care that does not always require licensed medical personnel. This type of care is provided by caregivers who are specially trained and experienced in dealing with people who have specific conditions, such as multiple sclerosis, Parkinson's disease, or Alzheimer's.
Alzheimer's and Dementia Care: Knowledgeable caregivers, trained to provide effective care to seniors who are suffering from dementia or Alzheimer's disease, help ensure the safety of the affected individuals and engage them in various activities and memory exercises to help slow memory loss;
Disability Care: Professional caregivers work in collaboration with speech, occupational, and physical therapists to enable a broader range of activities for disabled adults and improve their quality of life. The caregivers provide companionship, personal care, and housekeeping support;
Post-Surgical Care: Certified nursing assistants help seniors who have recently had surgery by monitoring their condition and managing their medication. They also handle work around the house so the person can rest and recover.
Specialized care is also available for cancer patients, stroke victims, seniors with muscular dystrophy, cerebral palsy, traumatic brain injury, and other neurological, physical, and cognitive conditions.
Housekeeping and Transportation
Professionalcaregivers help keep the home clean and organized, take care of errands like grocery shopping, and provide rides to important events such as family gatherings and doctor appointments. Typical housekeeping services include:
Making beds and changing bedding;
Doing the laundry;
Washing dishes, pots, pans, and utensils;
Cleaning kitchen counters and appliances;
Cleaning bathroom fixtures;
Vacuuming and dusting;
Gathering up trash from inside the home and putting it out for pick up.
Companionship Care
This is the least hands-on type of senior care – the caregivers are there to provide everyday social interaction and help with errands. They build a personal connection with the elderly through conversations and engaging activities.
You can expect the following from companion caregivers:
Providing companionship, friendship, and emotional support;
Talking and listening to the senior, sharing experiences and discussing topics of interest;
Reading to the elderly and playing games with them;
Providing transportation to medical appointments, stores, and errands;
Accompanying the elderly to recreational and social events.
Temporary Care Options
In some situations, only temporary care is required – while a senior is recovering from an illness, while the primary caregiver is away, etc.  There are different types of temporary care for the elderly, based on the needs and preferences of the senior and their family: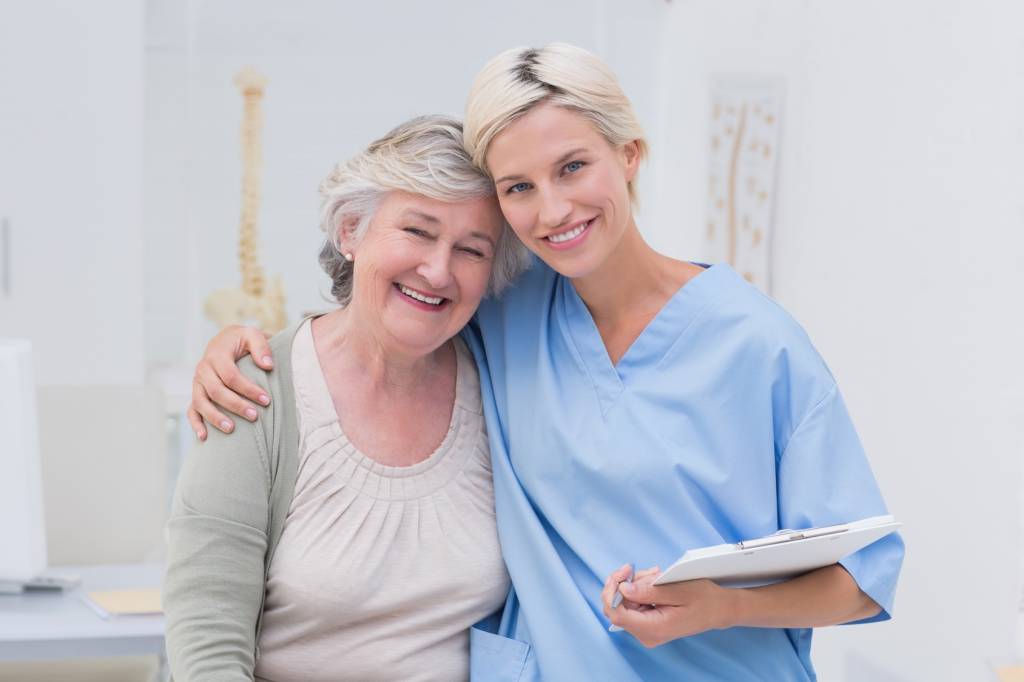 1) In-home respite care -In home respite care is provided in the senior's home, either on a regular basis or as needed. The services may last for a few hours, an overnight, a weekend, or a few weeks. They may include personal care services (assistance with eating, dressing, grooming, etc.), homemaker services (assistance with housekeeping, shopping, and meal preparation), companion services (assistance with recreational and social activities) and skilled care services (assistance with medical care).
2) Out-of-home respite care – Out-of home respite care is provided in specialized facilities like adult day centers, group homes, and nursing homes. Adult day care centers typically operate during daytime hours on weekdays to provide care and companionship to the elderly in a safe, supportive, and cheerful environment. Residential respite caretakes place in group homes, nursing homes, and other specialized facilities that provide both planned and emergency services.
With so many types of senior care available, you should be able to easily find an appropriate solution for your elderly loved one.
How to Choose the Best Elder Care Option
The first thing to do when considering different types of elderly care is to determine the actual care needs your senior loved one. Think about what daily activities they need help with, if they require assistance with self-care or not, whether they require around-the-clock care or just daily check-ins, if they need special health care that can only be provided by a licensed medical caregiver, etc.
Once you've determined the type of care your aging relative needs, you have to consider the level of help your family can provide and decide what kind of senior care services to use.
Your last task is to ensure that your senior loved one gets the best possible care. This means finding a reliable caregiver – properly licensed and bonded, knowledgeable and highly trained, trustworthy and compassionate – who has plenty of experience in dealing with cases similar to your own and will get along with your elderly loved one.
When choosing a care provider, you need to make sure you're working with a licensed, insured, and qualified home care agency, find out what types of services the agency offers and how much it charges for its services, gather information about the company employment and screening process, and interview the potential caregivers in order to find the right person for the job.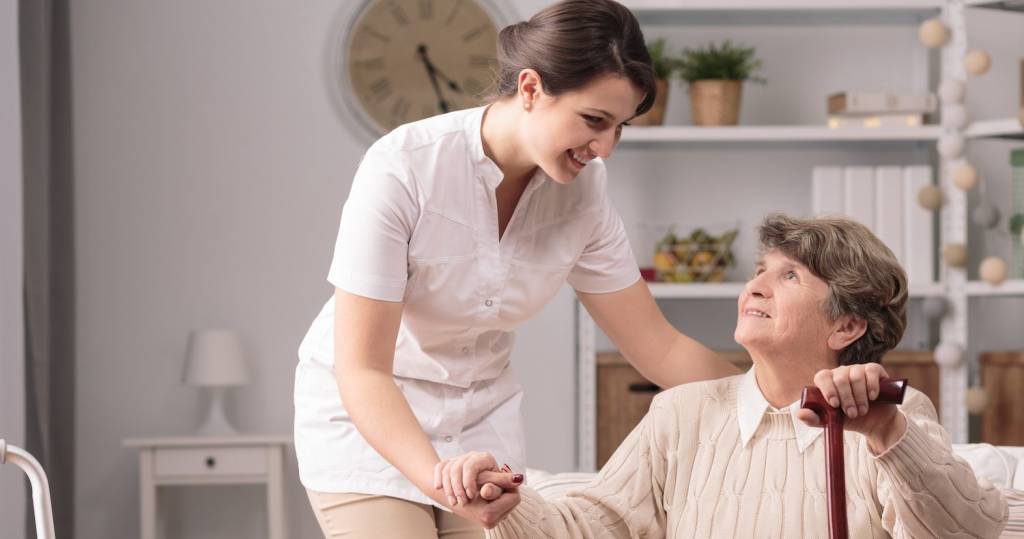 If you have an elderly loved one living at home in Batavia, Aurora, Bartlett, or the surrounding areas who could benefit from elderly home care services, Assisting Hands Home Care is the company to call.  We are a licensed and insured home care agency that provides quality non-medical elder care services to help seniors maintain a safe and enjoyable lifestyle in the comfort of their homes.
Whether your elderly loved one requires round-the-clock care or only minor assistance with daily tasks, our skilled, courteous caregivers will provide excellent care and emotional support. We'll create a customized care plan to meet the specific needs and requirements of your aging family member and will strive to improve their quality of life and make them feel cheerful and content.  Contact us at (630) 332-2203 to get more information about our elderly care services and schedule an initial appointment.