Seniors who require extra support in the comfort of home have various in-home care options available to them. Live-in care and 24-hour care offer sustained care to elderly individuals in need of compassionate assistance. While both forms of senior care provide around the clock help, certain factors differentiate the two.
Shifts and Schedules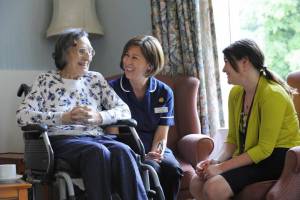 Multiple caregivers are hired in a live-in caregiving situation. Live-in caregivers work four to five days per week, providing 24-hour care to the senior. An alternate live-in caregiver handles the caregiving responsibilities for the remaining two to three days of the week.
During each 24-hour period, each live-in caregiver receives a four-hour break. The family determines whether or not to hire another caregiver during the four-hour breaks.
With 24-hour care, two caregivers work 12-hour rotating shifts. Families may choose to hire three caregivers to operate on eight-hour rotating shifts. Seniors who require constant supervision benefit from the increased focus of three caregivers who work the less-demanding eight-hour shifts.
Functional Aspects
Live-in care features non-medical services. Tasks that may be performed include grocery shopping for the senior who is unable to drive, medication reminders or assistance with the activities of daily living (toileting, dressing, bathing and grooming).
Similar to live-in care, 24-hour care provides non-medical care for an elderly individual. Transportation to doctor's appointments, companionship and preparing meals are included in the daily tasks of a 24-hour caregiver.
Sleeping Arrangements
Since a live-in caregiver shares the senior's home (but does not move in) for the duration of care, a bed will need to be provided for the caregiver's sleep break. The hiring family may choose to position a bed within the same room as the care recipient or offer a separate room within the home.
Sleep breaks are not necessary for a 24-hour caregiver, since a maximum of 12-hour shifts are worked by each caregiver. A family may allow a sleep break, however, during the overnight caregiver's shift.
Cost of Caregiving
Medicare pays for neither live-in care nor 24-hour care. Support through Medicaid varies from state to state. The Veterans Administration may offer indirect financial support that can be used to pay for live-in care.
A live-in caregiver may exchange care for room and board. A live-in caregiver who supports an aging senior for a small wage plus room and board offsets the cost of live-in care, especially since caregiving services are paid for out of pocket.
Live-in caregivers receive a flat rate per day. Those who work shifts in 24-hour care are paid a daily hourly rate.
See also What Home Care Costs
Agency vs. Private Hires
Live-in caregivers may be found through several means. Recommendations from family, friends or neighbors offer a start when looking to privately hire a live-in caregiver. Families may even choose to hire a nursing student, sometimes in exchange for room and board, to provide in-home support while the student attends school. During the interview process, families are responsible for conducting background checks and checking references.
Senior care agencies retain a staff of qualified 24-hour caregivers who may be dispatched to a senior's home for the length of care. Home care agency hiring protocols are stringent, with recruiters performing thorough background checks on all caregivers prior to hire. In addition to strict hiring practices, elder care agencies are licensed, bonded and insured to provide maximum peace of mind to the seniors' families.
Benefits of In-Home Care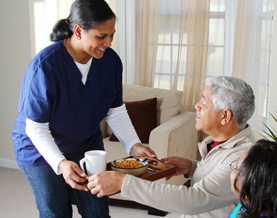 While the differences between live-in care and 24-hour care are many, both offer remarkable benefits to a senior in need of in-home support. Aging individuals experience improved nutrition through daily dietary management and the meal prep services provided by qualified in-home caregivers. Seniors stay on top of their medications with the help of caregivers who offer medication reminders.
Elderly individuals who live alone show dramatically improved moods and emotional well-being with the companionship of a live-in or 24-hour caregiver. Caregivers in either setup are regularly scheduled, allowing the care recipient to see the same two to three caregivers per day. The regularity of caregivers ensures the senior develops a long-term relationship with the caregiving team. As a result of the budding camaraderie between caregiver and care recipient, the isolation commonly seen in senior citizens is prevented.
Especially in the case of seniors with incapacitating conditions, such as Alzheimer's disease, stroke or those recovering from a recent surgery, live-in care or 24-hour care is a boon. Seniors with dementia-related illnesses find comfort living in familiar surroundings, and aging at home is the best solution.
Plus, elderly individuals with severe illnesses should not be left alone. When a family is unable to provide daily, continual supervision, as in the case of working parents who have children of their own, live-in care or 24-hour care are ideal options.
Your loved one's daily needs will be met with the help of compassionate caregivers from a reputable senior care agency, such as Assisting Hands Home Care. Several invaluable in-home care options, such as live-in care, 24-hour care and overnight care, offer families peace of mind as your loved one receives around the clock attention from a skilled and experienced caregiver.
Live-in care options at Assisting Hands Home Care include Alzheimer's and dementia care, meal preparation, light housekeeping, personal care and transportation. Our live-in caregivers are alert and available during each shift to attend to the needs of your loved one. Hiring live-in care or 24-hour care ensures that the senior in your life is compassionately tended to at every moment.
The Assisting Hands Home Care team discusses your loved one's needs in an initial meeting in order to develop a customized care plan. Flexible and updated continually, the plan ensures the senior's changing requirements are met.
Professional live-in and 24-hour caregivers are instrumental in supporting the everyday needs of seniors with a disability, limited mobility or chronic conditions. The skilled caregivers at Assisting Hands Home Care are dedicated to ensuring your loved one leads a life filled with dignity and independence.