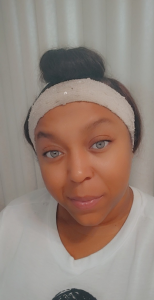 This month's nomination for caregiver of the month for the Park Ridge area is Iesha Reneau. Iesha has worked with us a little less than a year. Iesha has been a caregiver in general about 9 years. Iesha was nominated this month because one of the clients she works with reached out personally to our office and could not say enough about her efforts and working relationship that she has built with them.
About Iesha
Iesha became a caregiver because her mother was a CNA and she would witness the way she would help her clients and it amazed her. Iesha states her mother is her hero and was a positive influence in her life. The thing she loves most about her job is helping her clients and listening to their stories. She also wants them to know that she is there for them and not alone. Outside of working with our company, Iesha enjoys taking nature walks and when it is cold, she loves to do arts and crafts with her children. Iesha's professional goal is to become an RN so she can broaden her expertise and help more people.
Congratulations, Iesha, on being our caregiver of the month. We are lucky to have you apart of our team.
Become a Caregiver Like Iesha
Do you have a passion for helping others? Do you live in the Schaumburg or Park Ridge, IL area? We would love to speak with you if so!
Give us a call at (847) 857-6166 for more information about our caregiver jobs.