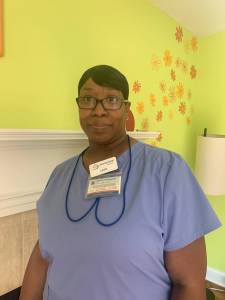 One of this month's caregiver of month awards for the Schaumburg area goes to Leslie Rogers. Leslie has been with our company less than 6 months and so far in those months she has shown dedication, reliability, and great work ethic.
About Leslie
Even though Leslie's time so far within our company hasn't been years, she has been in this industry for over 20 years. Leslie became a caregiver because she spent a lot of her life caring for others. She is the oldest daughter, sister, granddaughter, niece, and cousin of all her family and believes caring for others was meant for her. What she enjoys most about caregiving is being able to give the families she works with a sense of relief and help them relax knowing their family members are being taken great care of.
Outside of working with our company, Leslie enjoys scrapbooking. She has 4 grown children and 9 grandchildren that are always taking pictures. Leslie's goal in life is to continue to care for the elderly population until she unable to. Congratulations Leslie on being nominated one of our caregivers of the month. You deserve it and we are lucky to have you on board.
Become a Caregiver Like Leslie!
Do you have a passion for helping others? Do you live in the Schaumburg or Park Ridge, IL area? We would love to speak with you if so! Give us a call at (847) 857-6166 for more information about our caregiver jobs.